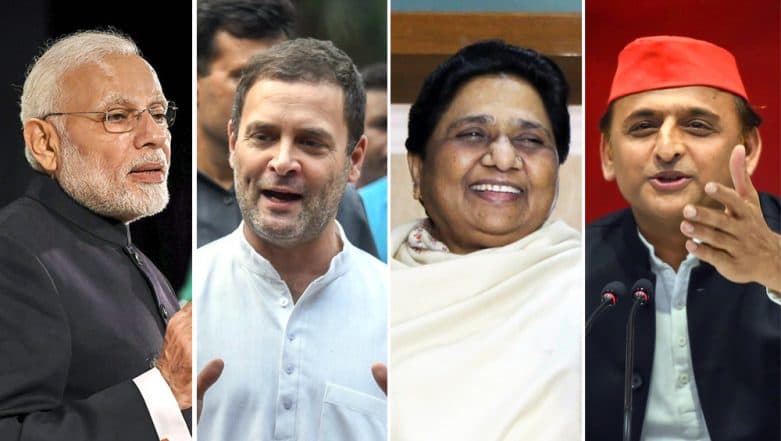 Lucknow, January 24: The Bharatiya Janata Party (BJP) could be reduced down to just five seats from 73 in Uttar Pradesh in Lok Sabha Elections 2019 if all opposition parties in the state unite to fight together, says the Mood of the Nation poll by India Today and Karvy Insights. The poll indicates that the Bahujan Samaj Party and the Samajwadi Party may have made a mistake by keeping the Congress out of their alliance in the state as they could have defeated the BJP together. National Approval Ratings: Mahagathbandhan to Win 50 Out of 80 Uttar Pradesh Seats in 2019 Lok Sabha Elections.
The Mood of the Nation survey says that if the opposition parties would fight the forthcoming Lok Sabha polls in UP as a single unit, their seat tally could increase to a whopping 75 from just five in Lok Sabha Elections 2014.
However, the MOTN poll also claims that the Samajwadi Party, Bahujan Samaj Party and Rashtriya Lok Dal combine (SP-BSP-RLD) is likely to emerge as the winner on 58 of the 80 Lok Sabha seats. The Congress may get four seats, including the bastions of Amethi and Rae Bareli, it says. The ruling BJP-Apna Dal alliance, the poll adds, would be reduced to 18 seats if the BSP-SP-RLD and Congress fight separately.
A total of 2,478 people were polled in Uttar Pradesh for this survey. The opinion poll findings, however, come on a day when Priyanka Gandhi Vadra finally entered active politics and was made the AICC General Secretary for UP East. The poll does not take into account the impact of this political development in addition to Jyotiraditya Scindia being given charge of UP West.