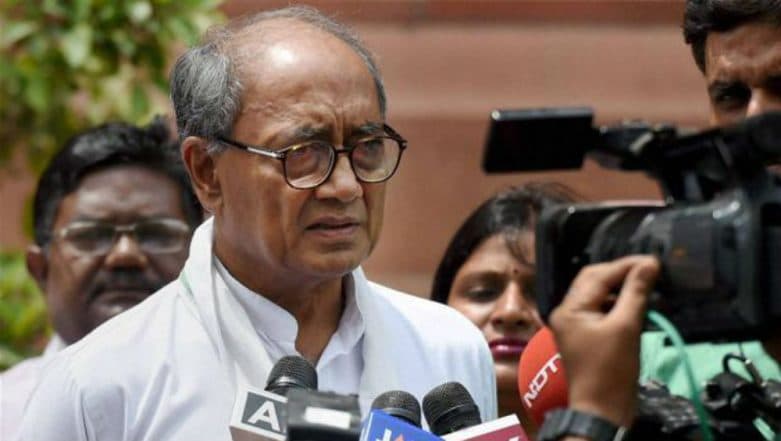 Bhopal, September 1: In yet another controversial statement, senior Congress leader Digvijaya Singh alleged the Bharatiya Janata Party (BJP) and Bajrang Dal are taking money from Pakistan's intelligence agency- the Inter-Services Intelligence (ISI). Digvijaya Singh also said that the members of Rashtriya Swayamsevak Sangh (RSS) and Bajrang Dal run business in the name of cow protection. Manmohan Singh Blames 'Mismanagement' by Modi Government For Economic Slowdown, Urges Centre to Shun Vendetta Politics.
"Bajrang Dal and Bharatiya Janata Party are taking money from ISI. Attention should be paid to this," Singh said on Saturday. The Congress leader, who unsuccessfully contested Lok Sabha election from Bhopal against BJP's Pragya Singh Thakur, also claimed that more non-Muslims are involved in spying for Pakistan than Muslims. "Non-Muslims are spying for Pakistan's ISI more than Muslims. This should be understood," he said.
Singh further blamed the Modi government for the economic slowdown and unemployment. He said the economy is deteriorating under the Modi government and there are no jobs in the country. He also said that the people of Northeast eat beef and the British slaughtered cows to feed their army.
Reacting to Singh's controversial statement about BJP, RSS and Bajrang Dal, former Chief Minister of Madhya Pradesh Shivraj Singh Chouhan said the Congress leader makes such remarks to stay relevant in politics. "He gives controversial statements to stay in news. He and his leaders speak Pakistan's language. Pakistan quotes Rahul Gandhi. As far as BJP-RSS is concerned, the entire world and the country knows their patriotism," Chouhan said.