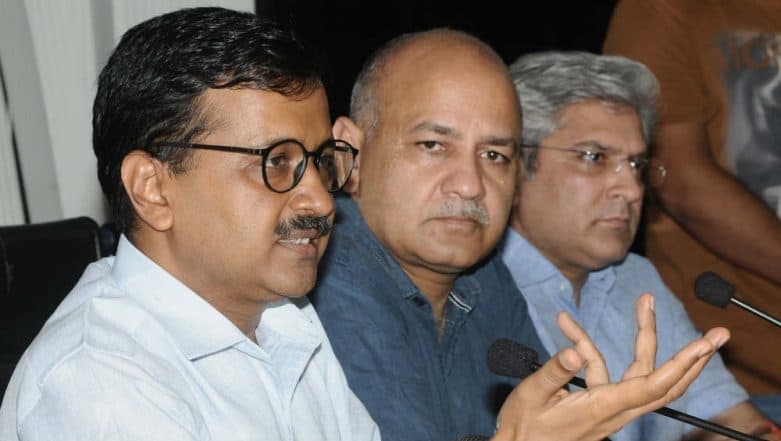 New Delhi, June 3: Delhi Chief Minister Arvind Kejriwal on Monday announced voluntary free rides for women in Delhi Metro and DTC and cluster buses "to encourage them to use public transport". Arvind Kejriwal said the Delhi Metro Rail Corporation (DMRC) and Delhi Transport Corporation (TSC) have been asked to make a detailed proposal to ensure free rides for women in Delhi Metro and DTC buses. The Delhi government also sought public opinion on the proposal at delhiwomensafety@gmail.com.
The chief minister also said the subsidy to be provided by the Delhi government will be voluntary. "Subsidy won't be imposed on anyone. There are several women who can afford these modes of transport. Those who can afford, can purchase tickets, they needn't take subsidy. We encourage those, who can afford, to buy tickets and not take subsidy so that others could benefit," Kejriwal said. Delhi Metro Asks Game Of Thrones Fans To Not Spoil The Finale For Others, Says 'Use Earphones When You Watch The Episode'.
About 30 lakh passengers travel by Delhi Metro every day. Of them, slightly higher than 25 per cent are female. The percentage of women travellers on buses is not more than 20 per cent. Kejriwal also announced that over 2 lakh CCTV cameras will be installed across Delhi to make the national capital safer for women. The announcements come a few months before Assembly elections in the national capital.
The Aam Aadmi Party (AAP) government in Delhi and the Centre are 50:50 equity partners in the DMRC. On being asked if they need permission from the Centre, Kejriwal said the Delhi government will bear the expense incurred by the subsidy, hence, there is no need for permission from the Centre. In DTC buses, the Delhi government can easily implement a free travel scheme for women.
However, the proposal to make Delhi Metro services free for women could start another tussle between the AAP government and the Modi government as the Delhi government and the centre's Housing and Urban Affairs Ministry have not been on the same page over several issues related to metro, including fare hike and Phase-IV of the Metro network.