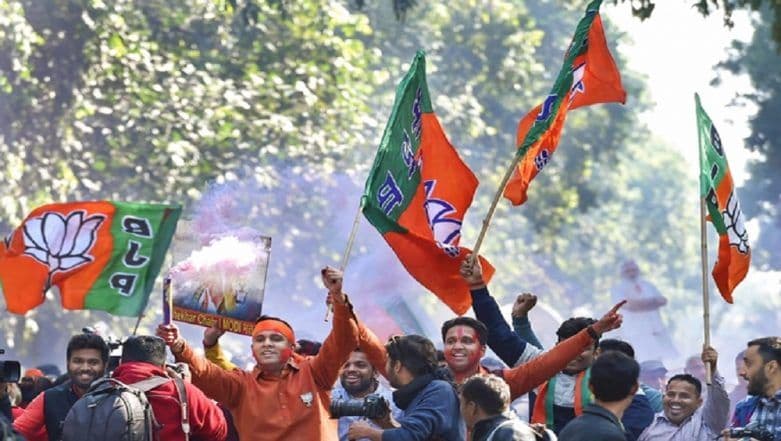 Shimla, May 23: Suresh Kumar Kashyap, the Bharatiya Janata Party (BJP) candidate in Himachal Pradesh has won the Shimla (SC) seat. Kashyap defeated his Congress rival Dhani Ram Shandil to emerge victorious in the state. In the last Lok Sabha Elections held in 2014, Virender Kashyap had won the Shimla (SC) seat. Meanwhile, according to trends by Election Commission of India (ECI), BJP's Anurag Thakur is leading from from Hamirpur seat in Himachal Pradesh by margin of 3,87,812 votes. BJP Sweeps North India Except For Punjab, Set To Win All Lok Sabha Seats in Haryana, Delhi, Most in Uttar Pradesh, Jammu And Kashmir. 
In Himachal Pradesh, the main contest was between the Congress and the BJP. The exit poll results that were released on Sunday  had predicted BJP's victory in Himachal Pradesh, Most exit poll surveys showing the saffron party bagging all four seats.
BJP's win in the hill state was certain as the the all the party retained all the four Lok Sabha seats as its candidates were leading by a record huge margins.  Hamirpur sitting MP Anurag Thakur, Kangra candidate Kishan Kapoor, Shimla candidate Suresh Kashyap and Mandi sitting MP Ram Swaroop Sharma were leading since morning in their respective seats, mauling their  nearest Congress rivals.
A total of 38,01,793 voters - 72.25 per cent of 52,62,126 eligible ones- cast their franchise on May 19 in a single phase to select their representatives to the 17th Lok Sabha. In December 2017, the BJP came to power by winning 44 seats in the 68-member Assembly. The Congress won 21 seats, Independents two and the Communist Party of India-Marxist won one.