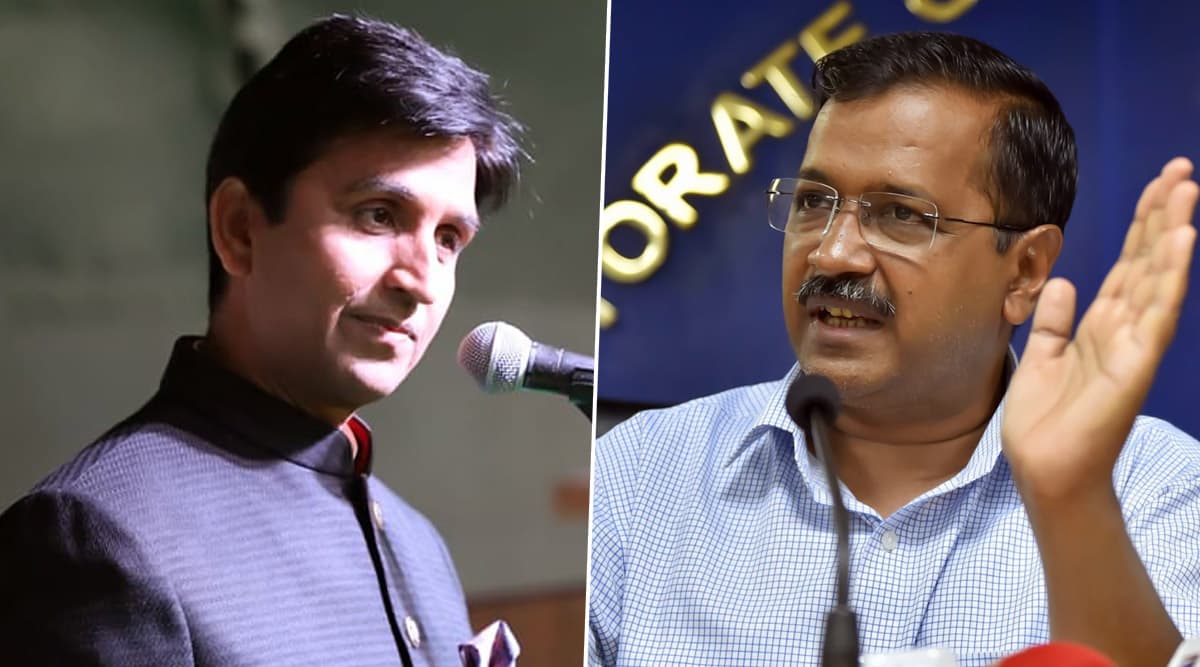 New Delhi, January 9: Former Aam Aadmi Party (AAP) leader Kumar Vishwas may join the BJP ahead of the assembly elections in capital, said various reports. Speculation is rife that the Bharatiya Janata Party (BJP) is also planning to field Kumar Vishwas as its Delhi CM candidate. As reports trickled about the former prominent AAP leader's possibility of joining BJP, Twitter compared Kumar Vishwas and Arvind Kejriwal and evaluated Kumar's chances against the Delhi chief minister. Delhi Assembly Elections 2020 Opinion Poll: AAP to Win 59 Seats, BJP May Bag 8, Predicts CVoter Survey.
Twitter went on an overdrive talking about Kumar Vishwas joining BJP. Journalist Brajesh Mishra, who is following the development , tweeted about Kumar's possible inclusion in the BJP and said that top party leadership is in talks on Kumar Vishwas's name. Vishwas, a renowned poet and orator, had a bitter fallout with Arvind Kejriwal a few years ago and quit AAP. Kumar Vishwas was among the founding members of the Aam Aadmi Party. Delhi Assembly Elections 2020 Dates: EC Releases Schedule, Voting in Single-Phase on February 8, Results on Feb 11.
Read the Tweets Below 
आलाकमान ने कुमार विश्वास के नाम पर विचार करने की सिफ़ारिश की है.

— Brajesh Misra (@brajeshlive) January 9, 2020
Tweets Comparing Vishwas and Kejriwal
ऐसा न करो @DrKumarVishwas भाई हर जाएंगे । मैं ये नही कहता कि वो अच्छे राजनैतिक नही है या मैं उनकी आलोचना कर रहा हूँ जो मैं ऐसा बोलूं ।

विश्वास बहुत अच्छे इंसान हैं हृदय सम्राट है लेकिन केजरीवाल ने काम किया है ये मन्ना पड़ेगा।

जब किरण बेदी हर गईं तो फिर ।

— Bittu Rangbaaz (@rangbaaztweet) January 9, 2020
Some Claimed That Vishwas Could Help BJP in the Elections
@DrKumarVishwas जी अगर मुख्यमंत्री का उम्मीदवार बनाया जाता है तो जनता चुनाव लडे़गी बहुत ज्यादा उत्साह भरा चुनाव 👍#kumarvishwas

— Amit Anmol✍️ (@AmitAnmol70) January 9, 2020
Few Claimed to be in the Know
Just a few days back I declared

Kumar Vishwas trying to make proximity with BJP https://t.co/gVcvJiWd3M

— Simmi Ahuja (@SimmiAhuja_) January 9, 2020
However, this is not the first time that reports of Kumar Vishwas joining the BJP has been making rounds. Days before the 2019 General Elections, it was reported that the BJP tried to rope in Kumar Vishwas to help fight Kejriwal and AAP in the Lok Sabha Elections. However, nothing came out of it. But with the assembly elections knowing on the door and opinion polls predicting a landslide victory for AAP, the BJP may formally induct Kumar Vishwas in the party. Polling in Delhi is scheduled on February 8 and the counting of votes will be on February 11.