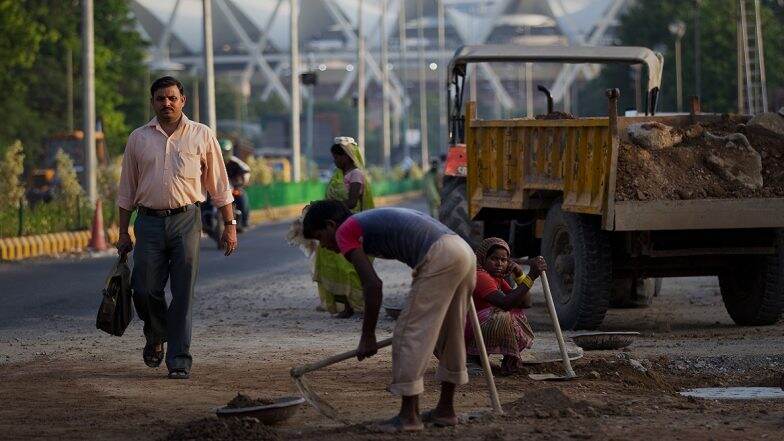 New Delhi, October 9: The Left, which is facing an existential crisis in all parts of India sans Kerala, has vowed to hit the streets to protest against the "anti-farmer" and "anti-worker" policies of the Narendra Modi government. The policies, allegedly designed to woo the corporate sector, has pushed the nation into the deepening economic crisis, Communist Party of India (Marxist) general secretary Sitaram Yechury. NPAs Cost Indian Banks Rs 1.76 Lakh Crore in Last 3 Years Due to Waiving Loans of Defaulters, Reveals RBI Report.
Yechury, in an interview to a news channel, said the only way out of staggering economic situation is to place more cash into the hands of the people. The money will trickle down among the masses only if the Centre focuses on big-ticket infrastructure projects, rather than presenting gifts to "its corporate friends".
The former Rajya Sabha MP was referring to the Rs 1.45 lakh crore cost which will be borne by the Centre by slashing corporate tax rate from 30 per cent to 25 per cent for all business houses, including those with annual turnover of above Rs 400 crores.
The corporate tax cut announcement, on September 20, came a month after the RBI transferred Rs 1.76 lakh crore to the government from its corpus fund. "Instead of increasing the wealth of those who are already rich, the government should take measures to ensure the money reaches in the hands of the people. Only when the purchasing power will rise, the economic slowdown will end," Yechury said.
"For the first time-ever, the sale of Rs 5 biscuits has went down? What does this indicate? That people don't have money in their hands. The solution to this lies in massive public investment," the CPI(M) chief told Swaraj Express.
Yechury said that if the government invests in infrastructure upgradation, lakhs of people would get unemployment. "When they will get wages, their purchasing power will rise, and this would in-turn resurrect the falling demand in crucial economic sectors," he said.
Kerala's Finance Minister Isaac Thomas has reiterated Yechury's demand, appealing the Narendra Modi government to "double" the allocation for Mahatma Gandhi National Rural Employment Guarantee Act (MGNREGA) and implementing the highway rejuvenation project, as tentatively proposed by Union Transport Minister Nitin Gadkari, at the earliest.