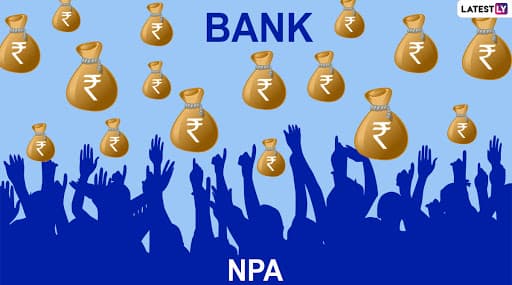 Mumbai, October 9: Amid the economic slowdown in the country, a shocking revelation has come that the Indian banking system has lost Rs 1.76 lakh crore on account of writing off non-performing loans of 416 defaulters since 2014-15. Reports claim that each of the defaulters owes Rs 100 crore or more to the banks. Contrastingly, this is close to the same amount which was given by the Reserve Bank to the Union government and allegedly deficit in the Union Budget 2019.
According to an RTI reply from the Reserve Bank, quoted by CNN-News 18, the scheduled commercial banks laid off a total of Rs 2.17 lakh crore between 2015 and 2018, which were considered as bad debts. Also, the report states that around Rs 40,798 crore -- taken by 109 unique borrowers -- were written off. Apart from this, the number of unique borrowers raised to 199 as on March 31, 2016, whose Rs 69,976 crore amount were written off. RBI's Relaxed Approach on Economic Crisis Keeps Door Open For Further Rate Cuts, Experts Worry About Lower GDP Forecast.
The whole process of laying off bad loans to non-performing asset didn't stop here. Post demonetisation, a sharp increase was witnessed in laying off bad loans. Also, the number of unique borrowers grew to 343, which is an addition of 144 more. Following this, each year, the banks laid off bad loans in each financial year, and the so was the case of unique borrowers.
After demonetisation, the amount written off also jumped from Rs 69,926 to Rs 1,27,797 crore, which rose to Rs 57,821 crore. By March 31, 2018, the total number of borrowers grew to 525 and the amount written off for bad loans shot up 1.27 lakh crore to Rs 2.17 lakh crore. Since the RBI's reply to bad loans prior to September 2014 is not available, however, the amount written off by the banks make the shocking revelation that how NPAs and unique borrowers minted money, while got their loan waived. Economic Crisis: GDP Growth Reaches a Trough; to Start Improving by January, Says HDFC Bank MD Aditya Puri.
Looking at the recovery measures taken by several banks, the write-offs say an altogether different story which does create an impression of why the country is moving towards an economic slowdown. The rise and fall of the Indian economy depend on the to and fro process of lending loans, while recovering the loans is also an aspect Narendra Modi government should look into.