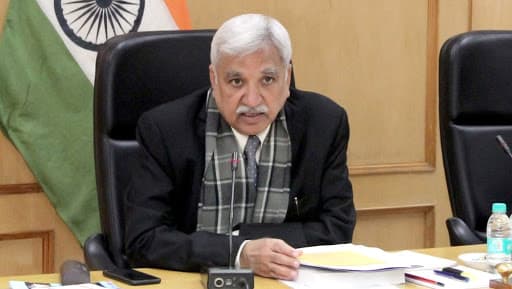 New Delhi, January 24: Reiterating his decision to conduct Lok Sabha elections on VVPAT, Elections Commission Chief Sunil Arora on Thursday stated that they are not going back to the era of ballot papers. The statement comes amid the speculations layed by Opposition parties that EVMs could be hacked.
Making it clear that the Election Commission won't conduct polls in the ballot papers, the EC chief said, "I would like to make it very clear that we are not going back to the era of ballot papers." With this statement, Arora put a full stop to the demands of the Opposition parties to conduct the upcoming polls through ballot papers. London 'EVM Hackathon' Row: Election Commission Writes to Delhi Police, Seeks FIR Against Syed Shuja.
Earlier on January 19, Arora had said that Electronic Voting Machines (EVMs) were being treated like a "football" by parties suffering electoral losses. He had also stated the voting equipment was foolproof as far as manipulations were concerned and those facing technical snags were promptly fixed.
Speaking to reporters in Patna, he had said, as reported by NDTV, "It is not possible to manipulate the EVMs. It is definitely foolproof as far as apprehensions of conspiracy and manipulation are concerned. But technical snags are possible as in case of any other device."
Adding more, he had said, "But the incidence of snags has been very low. In the recent assembly polls in five states, 1.76 lakh EVMs were installed out of which only six reported malfunction. The complaints were promptly taken care of." Arora also said that the EC is committed to holding the elections in a free and fair manner, and requested the parties not to make the EVMs a 'football'.
This was a response to the Congress allegations that EVMs were allegedly hacked by Bharatiya Janata Party in 2014 Lok Sabha elections, after a demonstration session was conducted in London a couple of days ago. Congress leader Kapil Sibal was seen attending the event.