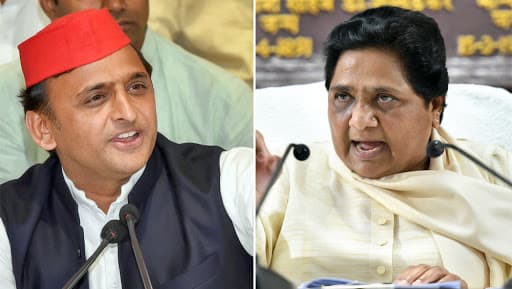 New Delhi, January 23: On the day when the Congress send a strong message in the political corridors of Uttar Pradesh by appointing the youngest Gandhi scion, Priyanka Gandhi Vadra, as the poll in-charge of eastern Uttar Pradesh, an opinion poll ended up bolstering the prospects of the non-Congress mahagathbandhan in the state, predicting it to win over two-third of the parliamentary seats.
The latest survey released by India Today-Mood of The Nation claims that the Samajwadi Party, Bahujan Samaj Party and Rashtriya Lok Dal combine (SP-BSP-RLD) is likely to emerge as the winner on 58 of the 80 Lok Sabha seats. C-Voter Survey Also Gives SP-BSP-RLD The Edge in Upcoming Polls.
The Congress, it predicts, will wrest 4 seats, including the bastions of Amethi and Rae Bareli. The ruling BJP-Apna Dal alliance, the poll adds, would be reduced to 18 seats -- down from 73 it had won in 2014.
Lok Sabha Elections 2019 Opinion Poll: Survey Predictions For Uttar Pradesh
| | |
| --- | --- |
| Party/Alliance | Seats Predicted |
| Mahagathbandhan (SP-BSP-RLD) | 58 (46% votes) |
| BJP | 18 (36% votes) |
| Congress | 4 (12% votes) |
| Total | 80 |
As per the survey, the SP-BSP-RLD combine will secure a vote share of 46 per cent. In 2014, the the three parties had contested separately. While SP had won 5 seats, the BSP and RLD had failed to open their accounts.
The Congress, which has been excluded from the mahagathbandhan in the state, is predicted to win more than 2 seats it had secured in 2014.
The BJP suffers the most lethal blow, if the survey predictions end up turning accurate. The party's current tally would plunge by 55 seats if the opinion poll predictions are reflected in the actual outcome.