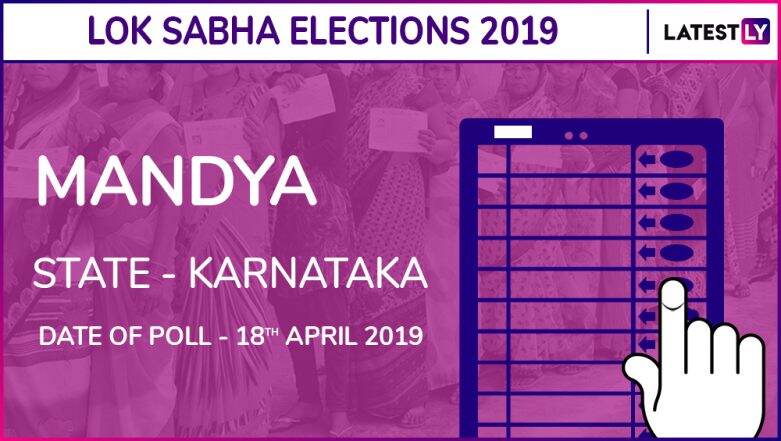 Mandya is one of the Lok Sabha constituency out of the 28 constituencies in the Indian state of Karnataka. Here the general election 2019 for this constituency will be held on April 18, 2019. The parliament constituency number of this constituency is 20. The results of the Mandya Constituency will be declared today. The counting of votes began on the Parliamentary seat in Mandya at 8 am on Thursday, May 23. Voting took place for the Mandya seat in the second phase of Lok Sabha Elections 2019. A total voter turnout of 80.23 per cent was recorded, as per Election Commission of India. Stay with us for Live updates on the results for the Mandya Lok Sabha seat in Karnataka.  Independent Candidate Sumalatha Ambareesh Elected MP. Lok Sabha Elections 2019 Schedule: Voting In 7 Phases From April 11 to May 19, Counting And Results On May 23; Check All Dates For General Elections.
Janata Dal(Secular), JD(S) has nominated Nikhil Gowda to compete for this seat in General election 2019 whereas Janata Dal (Secular) has selected Nikhil Kumaraswamy. The Election Commission has declared March 26, 2019, as the last date of filing on nominations from the seats. The last date for withdrawal of candidature is March 29, 2019. Lok Sabha Elections 2019 Phase II: List of States And Constituencies Voting On April 18.
Watch: Lok Sabha Phase II Polls Details
Here the bye-election was held in the year 2018 where L. R. Shivarame Gowda from Janata Dal(Secular), JD(S) defeated D. R. Siddaramaiah from Bhartiya Janata Party(BJP). The 2014 General election was also won by JD(S) candidate C. S. Puttaraju. The JD(S) candidate Shivarama Gowda won 2018 bye-election by a margin of 3,24,943 votes where he secured 5,69,347 votes.
The 17th Lok Sabha election will be held throughout India from April 11, 2019, and it will last till May 19, 2019. The polling will be done in 7 phases. The result for each phase will be declared on May 23, 2019.