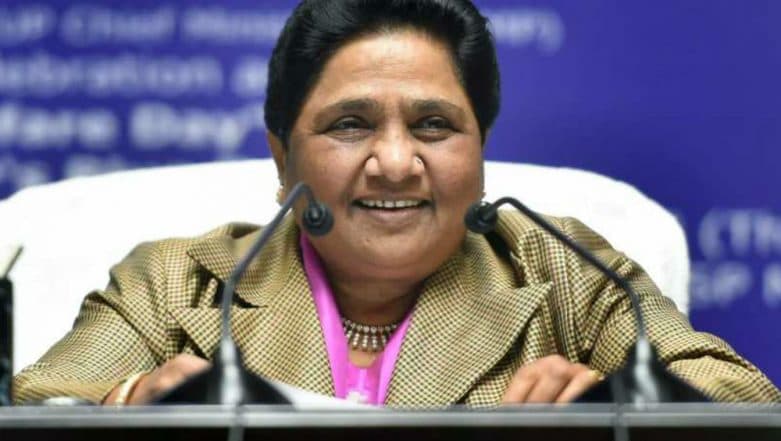 Lucknow, January 20: Facing flak from all corners for her comment on BSP chief Mayawati, BJP MLA Sadhana Singh has come under strong attack from  the BSP as well as the National Commission For Women (NCW). BJP MLA Sadhana Singh in her comment had called "Mayawati worse than a eunuch". BJP MLA Sadahna Singh Makes Derogatory Remarks Against Mayawati, Says 'BSP Chief Worse Than a Transgender' - Watch Video.
Addressing a public gathering on Saturday, MLA Sadhana Singh said Mayawati is neither a woman nor a man. Criticising Mayawati for joining hands with the Samajwadi Party, the BJP legislator said the BSP supremo is worse than a transgender.
"I don't think Uttar Pradesh's former Chief Minister is a woman or a man. She doesn't understand the concept of dignity. Draupadi was a victim of sexual misconduct. She vowed to get revenge. That was a self-respecting woman. Look at this woman. Everything was looted from her, despite which she sold all her dignity to get power."
"I take this opportunity to condemn Mayawati, who calls herself a woman. She is a shame on the entire womankind. BJP leaders saved her dignity, and she sold it for the sake of her comfort and power. Women from the entire country condemn her," Sadhana added.
BSP leader Satish Chandra Mishra, called Uttar Pradesh MLA Sadhana Singh "mentally ill" for her comment.
Read His Comment in the ANI Tweet Below:
Uttar Pradesh MLA Sadhana Singh is "mentally ill", said BSP leader Satish Chandra Mishra, after the MLA from Mughalsarai called Mayawati "a person worse than an eunuch"

Read @ANI Story | https://t.co/MxFBQ1fn4h pic.twitter.com/yWEW1wkGvk

— ANI Digital (@ani_digital) January 19, 2019
Union minister Ramdas Athawale also criticised Sadhana Singh's statement and said that though his party is with the BJP, he does not agree with the "disrespectful" remarks against Mayawati. Athawale said that "She is a strong lady of our Dalit community and a good administrator. I would've definitely taken action if it was someone from our party."
The National Commission for Women said a notice will be sent to Bharatiya Janata Party (BJP) legislator Sadhana Singh for referring to Bahujan Samaj Party (BSP) supremo Mayawati as a "eunuch". "NCW has taken suo moto cognisance of the objectionable statement made by BJP MLA Ms. Sadhana Singh. The Commission will be sending a notice to Ms. Singh regarding the statement in question." the Commission tweeted.