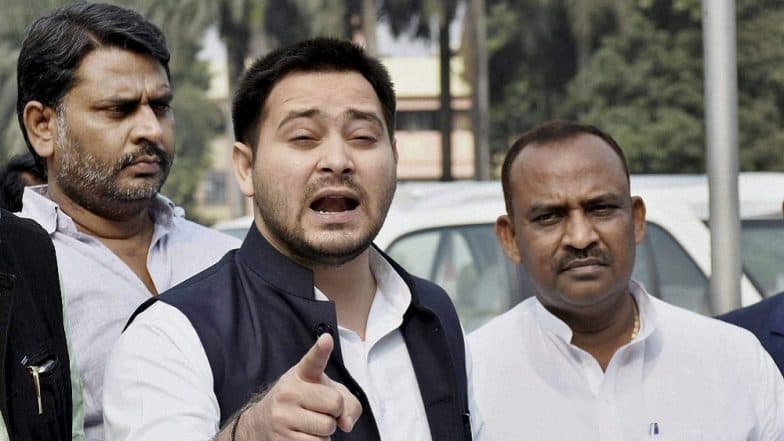 New Delhi, December 14: Despite the Congress decimating the BJP with a 3-0 win in the assembly elections held in three Hindi heartland states, pollsters are unsure whether the party would be able to replicate the same four months later -- when the 2019 Lok Sabha elections would be held. For Congress detractors, the question remains: "Modi vs who?"
Former Bihar Deputy CM and de-facto chief of Rashtriya Janata Dal, Tejashwi Yadav, has the answer. The Yadav scion claimed that the next general elections would not be a personality contest. The electorate already has the answer to Modi vs who, he said, adding that the Prime Minister faces the most stringent challenge from the "fake promises" he made in 2014. If Congress Repeats 5-State Assembly Elections 2018 Results in 2019 Lok Sabha Polls, How Many Parliamentary Seats it Will Gain?
When BJP boasts about "Modi vs who", the common man on the ground hits back asking: "kya hua tera vaada (What about your promises)", Tejashwi said, while speaking to NDTV. The RJD young turk said the fundamental battle in 2019 finale` will be: "Modi vs his promises".
Tejashwi went on to claim that the Prime Minister has fulfilled "none of the key promises", including 2 crore jobs to unemployed youth, bringing back black money from abroad, depositing Rs 15 lakh in each bank account and relieving the farmers of their distress.
On the contrary, alleged Tejashwi, Modi has tinkered with the institutions of the the nation. He has "played havoc" with the the RBI, CBI, judiciary and media, he added.
Apart from his tirade against the ruling BJP, Tejashwi also had a word of caution for Congress president Rahul Gandhi. In order to outperform the BJP in all corners of electioneering, the party needs to "show large heartedness" while accommodating regional parties. In what could be construed as a message for the Congress-RJD pact in Bihar, Tejashwi said Gandhi should allow the regional players to lead frontal attacks against the BJP in states where the "Congress don't have a robust base".