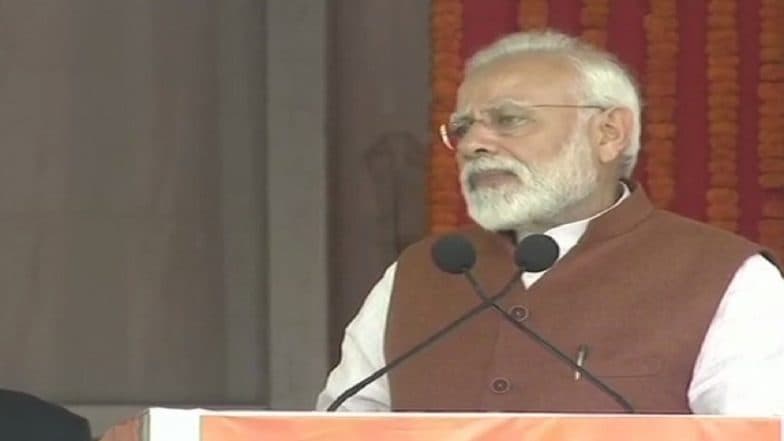 Guntur, February 10: Prime Minister Narendra Modi on Sunday launched a scathing attack at Andhra Pradesh Chief Minister Chandrababu Naidu during his rally in Guntur. Taking a jibe at Naidu, PM Modi accused him of working for his son rather than working for the development of the state. The Prime Minister said, "The state chief minister promised for working for the 'sunrise' in Andhra Pradesh, but Naidu worked for making his son rise. He further added that the Telugu Desam Party (TDP) chief is taking credit of all the development schemes which were started by the Modi government, rather than bringing the new ones. PM Narendra Modi in Arunachal Pradesh: Lays Foundation Stone of Greenfield Airport, Inaugurates Upgraded Airport at Tezu.
PM Modi in AP: Unhone (Chandrababu Naidu) Andhra Pradesh ke sun rise ka waada kiya tha, lekin apne 'son' ko hi rise karane main jutt gaye hain, unhone Andhra ke gareebon ke liye nayi yojnaein chalane ka wada kiya tha, lekin Modi ki yojanaon par hi apna sticker laga diya hai. pic.twitter.com/gZKntjqf0B

— ANI (@ANI) February 10, 2019
Escalating his attack on the Andhra CM, PM said that Naidu is senior in changing political alliances, in backstabbing his own father-in-law and losing one election after another. Speaking at the rally, PM Modi stated, "Central government has chosen Amaravati as 'Heritage City' under the National Heritage City Development and Augmentation Yojana (HRIDAY) so that the places of mythological importance here can be preserved."
PM in Guntur on Andhra Pradesh CM Chandrababu Naidu: Aap senior hain dal badalne mein,aap senior hain naye naye dalon se gathbandhan karne mein. Aap senior hain apne khudh ke sasur ke peeth mein churra bhokne mein.Aap senior hain ek chunaav ke baad dusre chunaav mein haarne mein pic.twitter.com/xbmPTrL1QE

— ANI (@ANI) February 10, 2019
He also accused Naidu of using public money for his visits to Delhi to meet opposition leaders. The PM added that in contrary the Bharatiya Janata Party used its own money for rallies. The Prime Minister today also laid the foundation stone of Krishnapatnam Bharat Petroleum Corp. Ltd (BPCL) coastal terminal project in Guntur before the rally. Chandrababu Naidu Appeals Andhra Pradesh Couples to 'Have More Than 2 Kids', Offers Incentives.
PM in Guntur: Ye (Chandrababu Naidu) kal photo khichwane ke liye Delhi jane wale hain, bada hujoom le ke jane wale hain, party ka bigul bajane. Lekin BJP jaise apne karyakartaon ke paiso se karyakram kara rahi hai, vo Andhra ki janta ki tijori se paise nikaal kar ke ja rahe hain. pic.twitter.com/RMkgmhqeJj

— ANI (@ANI) February 10, 2019
On Saturday, Naidu lashed out at PM Mod over the Rafale deal. He demanded an independent investigation into the Rafale deal. Naidu wrote a series of tweets hitting out at the Prime Minister. "PM Narendra Modi's silence on Rs. 59,000 Cr Rafale deal and reports on the possibility of India's Biggest Defence scam directly involving the PMO, speaks volumes of BJP govt's destructive decisions.