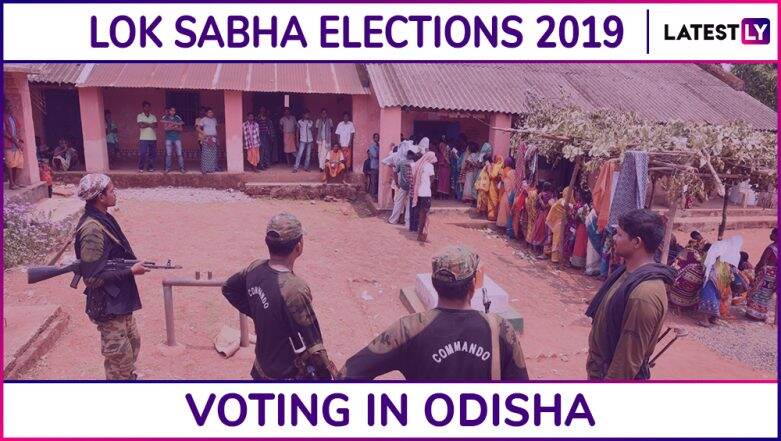 Bhubaneswar, April 23: Voting for the third Phase of Lok Sabha Elections 2019 for Dhenkanal, Puri, Sambalpur, Keonjhar, Bhubaneswar, Cuttack Lok Sabha and 42 Assembly Seats concluded in Odisha at 5 pm on Tuesday. Till 6 pm,58.18 per cent voting recorded in the state. The key Parliamentary constituencies in Odisha went into polls today were Puri, Cuttack and capital Bhubaneswar. Chief Minister Naveen Patnaik cast his vote in Bhubaneswar. Former IAS officer and BJP MP candidate Aparajita Sarangi also cast her vote. Meanwhile, EVM malfunction reported at various places in the state.
The counting of votes will take place on May 23 and results will be announced on the same day. In the third phase of polling in Odisha, voters will decide the fate of total 417 candidates, out of which 61 candidates are contesting on 6 Lok Sabha seats and 356 candidates will be wresting for 42 Assembly seats in the state. 6 out of 61 Lok Sabha candidates are women and 38 female candidates are contesting on Assembly seats. Campaign for Lok Sabha and Assembly seats ended at 5 pm on April 21. Odisha Lok Sabha Elections 2019: Phase 2 Voting Ends For Bargarh, Bolangir, Kandhamal, Aska And Other Parliamentary Seats, 57.81% Voter Turnout Recorded.
Odisha is a Biju Janata Dal (BJD) dominated state, the party has been in power in the state for over 19 years and party president Naveen Patnaik is seeking fifth term as chief minister of the state. In 2014 Lok Sabha Elections, BJD won 20 seats and BJP was able to get only 1 seat. Over 92 lakh voters are eligible to exercise their right in the third phase. The last date of nominations for phase three of pollings was April 4 and the last date of withdrawal was April 8. Odisha Lok Sabha Elections 2019 Schedule: Constituency-Wise Dates Of Voting And Results For General Elections.
The main contest for the Lok Sabha seats is between BJP and BJD. Ruling BJD has contested Arup Mohan Patnaik, ex-Mumbai Police commissioner, from Bhubaneswar against BJP's Aparajita Sarangi, while Congress has not declared any candidate for this Lok Sabha seat, CPI(M) has fielded its only candidate Janardan Pati from this seat. The Puri Lok Sabha seat is witnessing an interesting contest between BJP spokesperson Sambit Patra and sitting BJD MP Puri Pinaki Mishra, Congress has given ticket to Satya Prakash Nayak for this seat.
Congress has fielded Panchanan Kanungo from Cuttack seat where he will be facing tough competitions from BJP's Prakash Mishra and BJD MP Bhartruhari Mahtab. Chandrani Murmu is contesting on BJD ticket from Keonjhar seat, while BJP has fielded Ananta Naik and Congress has given ticket to Fakir Mohan Naik.
Odisha has 147 Assembly seats out of which 90 seats are meant for Open category, 24 seats are meant for Schedule Caste and 33 seats are reserved for Schedule Tribes candidates. Over 92 lakh voters are eligible to vote to elect Legislative member for 42 Assembly constituencies.  Security has been beefed up at some polling booths, as it has been identified as critical.