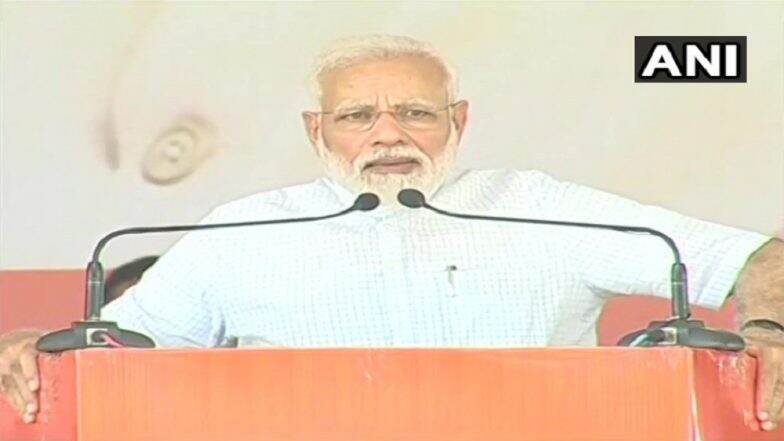 Rohtak, September 8: Launching the ruling Bharatiya Janata Party's (BJP) poll blitz in Haryana, Prime Minister Narendra Modi invoked the "ISRO spirit" and the "strengthening" of security apparatus in Jammu & Kashmir. Modi said the first 100 days of his government has been aimed at securing the nation and consolidating the unity among 130 crore Indians. The unity, he said, is being reflected as all sections of the society are standing as one to support the nation.
"At 1:50 am on September 7, entire nation was sitting in front of TV, looking at Chandrayaan mission. In those 100 second, I witnessed how an incident awakened the entire country and tied the country together. Like we talk about sportsman spirit, it's ISRO spirit in Hindustan now," he said. Kumari Selja New Haryana Congress President, Bhupinder Singh Hooda Appointed as CLP Leader.
"Be it the matter of Jammu, Kashmir and Ladakh or of worsening water crisis, 130 crore citizens of India have started looking for new solutions to the problems," Modi added, referring to the unprecedented decision of his government on August 5 to revoke the frontier state's special status.
Update by ANI:
PM Modi in Rohtak, #Haryana: This is the third time in the past few months that I am visiting Rohtak. This time I am here to ask for more support. And Rohtak has always given me more than what I asked for. pic.twitter.com/AwT01Mqjh5

— ANI (@ANI) September 8, 2019
Haryana, the state which the BJP won for the first-ever time in 2014, is set to go to polls within the next few weeks. The schedule is yet to be released by the Election Commission, but speculations are rife that the assembly polls will be held in November.
Modi's rally in Rohtak culminates with the completion of 100 days of his government's second tenure. On the occasion, Union Home Minister Amit Shah lauded the Prime Minister's decisive move to repeal Article 370 in J&K, amend Unlawful Activities Prevention Act (UAPA) and ban triple talaq within the first 100 days of the government.
"Whether it was the decision to remove Article 370 & 35A from J&K or to free Muslim women from the curse of Triple Talaq or strengthening nation's security apparatus by amending the UAPA Act...All these historic decisions are a result of PM Modi's decisive leadership," Shah said.