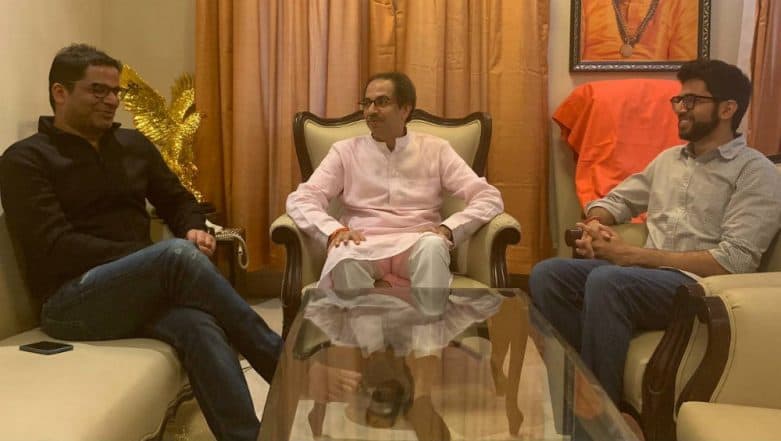 Mumbai, February 5: Election strategist-turned-politician Prashant Kishor, who is the new national Vice President of Bihar's ruling Janata Dal-United, on Tuesday met Shiv Sena President Uddhav Thackeray at Matoshree. While Shiv Sena maintained it was a "courtesy" meeting, Kishor's visit to Thackeray's residence gave fodder to speculations in political circles. Both Kishor and Thackeray remained tight-lipped over what was discussed.
"He (Prashant Kishor) is a leader of one of NDA's allies and he met Uddhav Ji in that regard. See it as a courtesy visit and not a political visit," Shiv Sena MP Sanjay Raut told reports. Kishor is one the most sought-after political strategists in the country with an impressive track record. He strategised Modi's victory in 2012 Gujarat Assembly elections as well as in 2014 Lok Sabha polls. Amit Shah Asked Me Twice to Induct Prashant Kishor Into JD(U): Nitish Kumar.
Post-2014, Kishor quit the BJP reportedly after Amit Shah did not accept his demand for a plum post in the party. After a bitter falling out with Shah, Kishor joined hands with the then Grand Alliance of the JD-U, Rashtriya Janata Dal (RJD) and the Congress in Bihar for 2015 state Assembly election. Once again, he proved his mettle and scripted victory for the Grand Alliance against the BJP. Prashant Kishor Won't Work with BJP for 2019 Elections Campaign.
Kishor was roped in by the Congress in Uttar Pradesh where he failed miserably. In September last year, he joined the JD-U and elevated to the post of national vice-president weeks later triggering speculation that he was being thought of by Kumar as his political heir. Under Kishor's leadership, the JD-U had defeated BJP's student wing ABVP the Patna University Students Union (PUSU) election held in December last year.