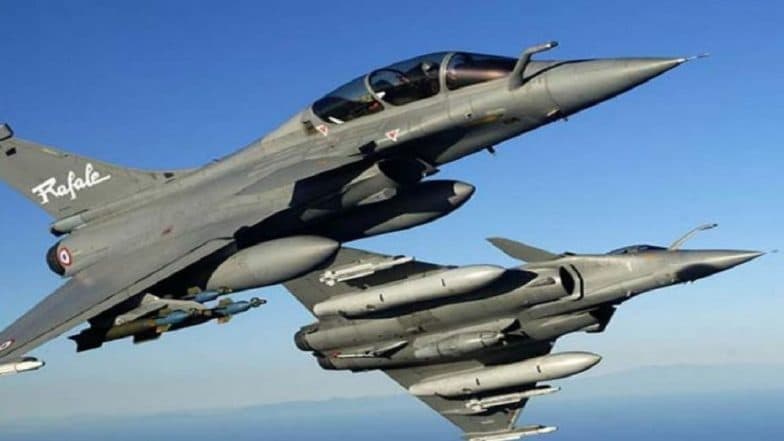 New Delhi, February 11: With the Comptroller and Auditor General submitted its much-awaited report on the controversial defence report on the acquisition of Rs 59,000 crore Rafale fighter jets on Monday, the Union government is most likely to table it in the Parliament today. However, the CAG report lacks details of the price of the jets and offsets after the Union Ministry of Defence raised concerns.
According to the sources, the report – scheduled to be tabled in the Lok Sabha ahead of the last day of the Budget Session – is divided into two sections and comprises a review of 11 deals signed by the Indian Air Force (IAF). Along with this, the audit of the Rafale deal is the part of the second section of the same report. It also mentioned all the estimations in terms of percentage. Rafale Deal Row: No Anti-Corruption Clause in 'Government to Government' Contract, Says Air Marshal Sinha Who Headed Negotiating Team.
Stating the reason for not mentioning the price and offset details, the sources said, as reported by TOI, "The deal has been evaluated without mentioned the price on the request of MoD." However, the auditor has mentioned the price of the other ten acquisition made by the IAF. Insiders believe that CAG is separately coming out with another standalone report on all offset deals, but it may not be prepared before the Lok Sabha elections.
Earlier, former Union minister and senior Congress leader Kapil Sibal alleged conflict of interest and asked the Comptroller and Auditor General (CAG) Rajiv Mehrishi to recuse himself from auditing the deal as he was the finance secretary when the deal was negotiated. This was rebutted by the BJP stating that the Congress was casting aspersions on the institution of CAG based on "falsehood".
Replying on attacks of Congress, Union Minister Arun Jaitley took to Twitter and wrote, "Another attack on the institution of CAG by the 'Institution wreckers' based on falsehood. After ten years in Government former UPA ministers still don't know that Finance Secretary is only a designation given to the senior most secretary in the finance ministry."
Congress president Rahul Gandhi had been attacking the Union government alleging it of corrupt practices in the acquisition of Rafale fighter jets from Dassault Aviation in France. Levelling serious allegations, Gandhi had said that BJP-led Union government had tripled the price of Rafale jets to benefit Anil Ambani's Reliance Defence. Following this, Leader of Opposition Mallikarjun Kharge in the Lok Sabha had asked for a CAG report on the Rafale jets deal.