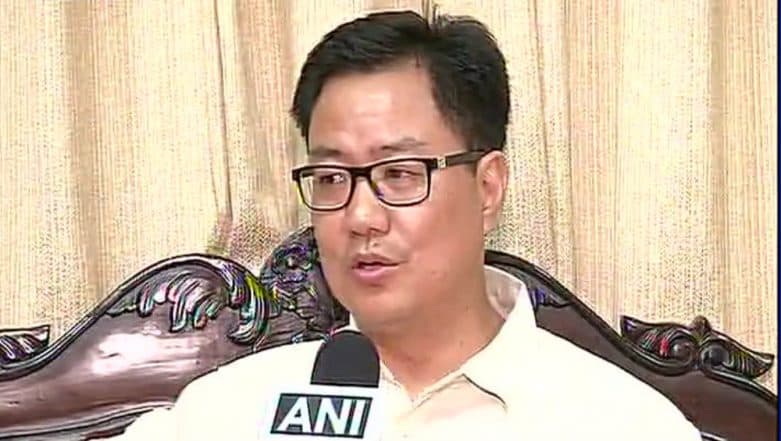 New Delhi, August 1: Minister of State for Home Affairs Kiren Rijiju had a slip of tongue moment in Lok Sabha on Tuesday, where he called the people of Tamil Nadu 'refugees'. "We have refugees who are coming to this country from Tamil Nadu, Tibet part of China...," Rijiju said, leading to a huge uproar in the House. It was after the uproar over his statement that he corrected it to "Sri Lanka."
Lok Sabha Speaker Sumitra Mahajan came to the rescue of Rijiju and said that the minister has rectified himself and that it was a slip of tongue, which can happen to anybody. Rijiju made the statement while speaking on the issue of Rohingya refugees in Parliament on Tuesday.
Video of Kiren Rijiju's Slip of Tongue in Lok Sabha
However, Rijiju faced the ire of Twitteratti over his slip of tongue. Here are some reactions from Twitter
Problem is whether Mr Rijju knows who genuine Indians are, considering he thinks people from Tamil Nadu are refugees in India. https://t.co/SuBWeXQfyP

— Jonathan Ananda (@JonathanSAnanda) August 1, 2018
Refugees have come to this country from Tamil Nadu he says. What to say to him??? https://t.co/WKtDADjJIC

— Sumanth Raman (@sumanthraman) August 1, 2018
@KirenRijiju how dare u to say..that refugees coming from tamilnadu?u have to be handle the words carefully..bcz ur a central minister..we have rights on india..more than others..mind it.

— DINESHKUMAR (@DINESH16021995) August 1, 2018
Responding to a series of supplementaries in Lok Sabha on Tuesday, Rijiju said that the government has reports that some of the Rohingyas have been involved in illegal activities but he would refrain from getting into details. He said since they are illegal migrants, they are not entitled to any government facility.
The minister said the priority of the government is to take care of rights of Indian citizens.