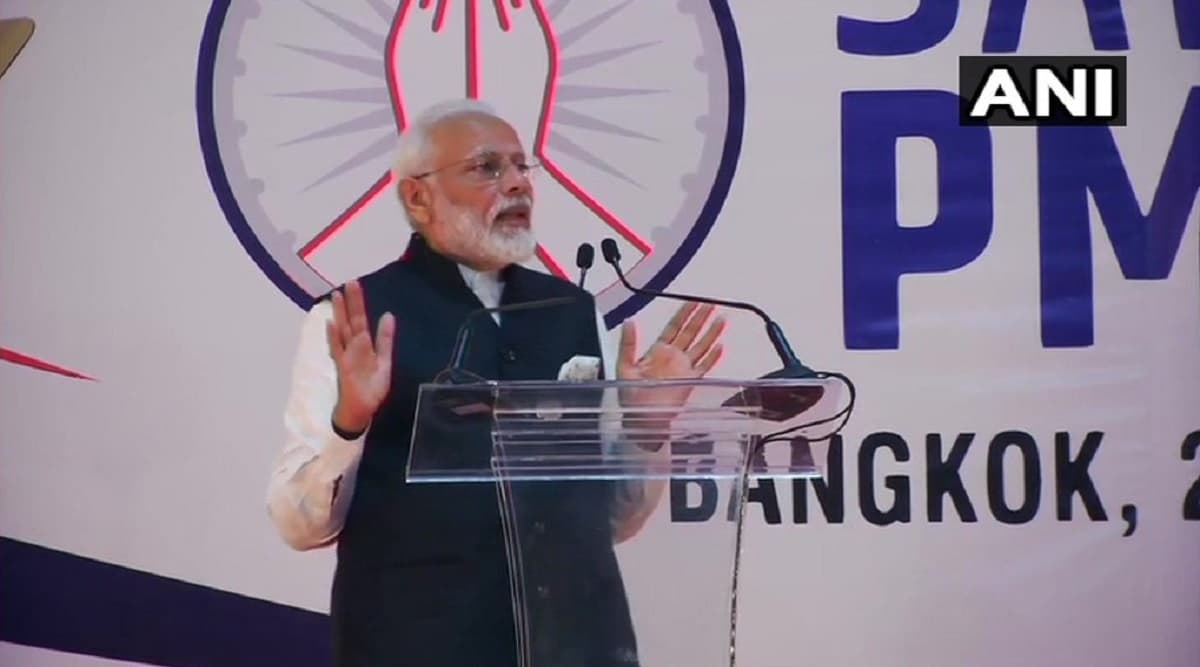 Bangkok, November 2: Prime Minister Narendra Modi, while addressing the Indian diaspora in Bangkok at the "Sawasdee PM Modi" event, received a standing ovation when he spoke of his government's recent move to strip Jammu & Kashmir of its semi-autonomous status. The repeal of Article 370 is one of the biggest blow to forces which are instigating terrorism and separatism in the Valley, Modi told the gathering. 'Sawasdee PM Modi': Prime Minister Releases Commemorative Coin Honouring Guru Nanak Dev Ahead of His 550th Birth Anniversary.
On receiving the standing ovation for his remarks, the PM said the accuracy and decisiveness of his decision is being reflected through the response he is receiving from the common people. Each patriotic Indian household has lauded the decision to revoke the special status of J&K through abrogating Article 370, Modi said.
The Indian PM credited his government for taking measures which no other regime had mustered the courage to implement in the last seven decades. Referring to Article 370, he said, "India has taken a massive decision to free itself from separatism and terrorism."
Watch PM Modi Getting Standing Ovation For Remarks on Article 370
#WATCH Thailand: People attending #SawasdeePMModi event in Bangkok, give standing ovation to Prime Minister Narendra Modi as he speaks about abrogation of Article 370 in Jammu & Kashmir. pic.twitter.com/B4izex8EkI

— ANI (@ANI) November 2, 2019
"When a decision is right and is taken with the right mentality, it resonates with the entire world. Today, I can hear it in Thailand. This standing ovation from you is for the Parliament of India, each and every lawmaker," he said.
Apart from highlighting the decisive steps taken by his government, Modi also stressed on the shared cultural relations between Thailand and India. The Prime Minister said no particular government, but the entire civilisation should be credited for deepening the bond between the two nations. The next of New Delhi's agenda is to further the ties between India's northeastern states and Thailand, he said.