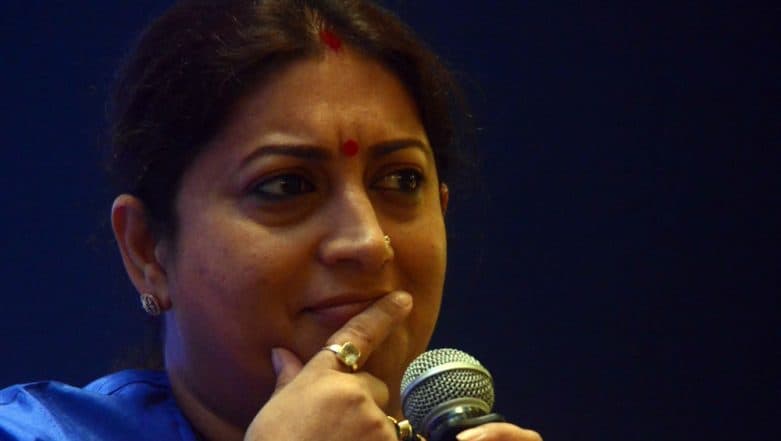 Pune, February 4: Union Minister Smriti Irani on Sunday said she would quit Indian politics the day Prime Minister Narendra Modi decides to hang his boots. In her address during the Words Count festival, Irani said she feels really lucky to have worked under the leadership of charismatic leaders like late Atal Bihari Vajpayee and now feels blessed to work under Narendra Modi's leadership. On being asked 'when will one see pradhan sevak Smriti Irani", she said, 'Never'. "I entered politics to work under charismatic leaders. I was very lucky to work under the leadership of late Atal Bihari Vajpayee, I'm currently serving under Narendra Modi", she added.
Irani was part of the discussion titled 'Scripting Her Story, From Star to Star Campaigner' at the Words Count Festival. The festival aims at bringing together speakers from several socio-political spheres to share their insights on various pertinent issues, is set to be held on 3 February 2019 in Pune. Irani said, "I decide for myself how much of my life I will give for my country, my society. In an independent country, if I cannot take a decision for myself, what is the use of that independence?". Smriti Irani And Harsimrat Badal Caught on Cam Doing Giddha Dance; Watch Viral Video. 
Irani was also if she would contest the forthcoming Lok Sabha polls from Amethi against Congress chief Rahul Gandhi. The Minister said the decision would be taken by her party and its chief Amit Shah. She told the audience there PM Modi will be around for very, very long years. "You are presuming Modi won't be there for long, but let me tell you, he is going to be around for very, very long years," she said.