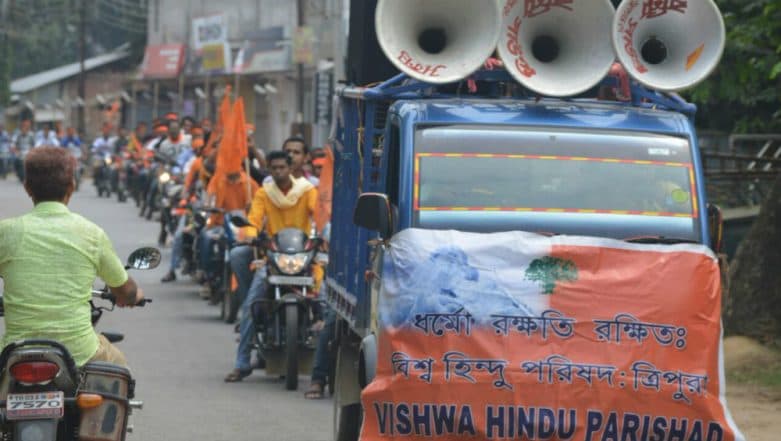 New Delhi, June 15: The Vishwa Hindu Parishad (VHP) and Bajrang Dal have been named 'militant religious organisations' by the Central Intelligence Agency's (CIA) The World Factbook. The CIA has also classified the Rashtriya Swayamsevak Sangh (RSS) as a 'nationalist organisation' in its Factbook. These outfits have been named under the category - 'Political pressure groups and leaders'.
Other outfits named in the Factbook under the same category are All Parties Hurriyat Conference, which has been called a separatist group, while the Jamiat Ulema-e Hind (Mahmood Madani) has been termed a religious organisation.
Reports say that the Bajrang Dal is upset with the move and is exploring legal options. Both VHP and Bajrang Dal are exploring legal options to get the tags put on them by CIA removed.
Map Shows Part of Kashmir as PoK, Omits it From India
The CIA Factbook has also issued a map of India which shows a part of Kashmir as PoK and omits it from India. It has excluded a legitimate part of west Kashmir and has identified it as part of Pakistan. The border in the map has been termed as '1972 Line of Control'.
"Kashmir remains the site of the world's largest and most militarized territorial dispute with portions under the de facto administration of China (Aksai Chin), India (Jammu and Kashmir), and Pakistan (Azad Kashmir and Northern Areas)," CIA's Factbook says.