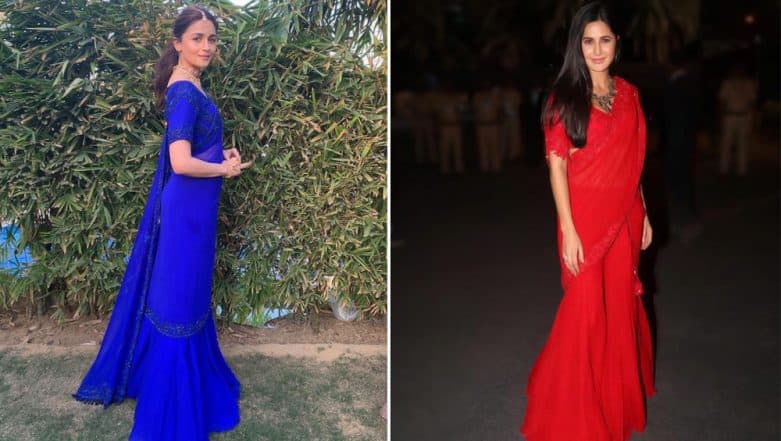 In the world of fashion, it's quite easy and only natural for our divas to fall for similar creations. Especially when their personal choices are so much alike. Previously we have seen Bollywood actresses like Deepika Padukone, Sonam Kapoor and Aishwarya Rai Bachchan pick the exact same outfit for two different occasions and yet nail it in their own peculiar way. It's no big issue to repeat a style and it's time we stop fussing about it. We, in fact, should adore these stunners for justifying the design and carrying it with their signature panache. The recent example being Katrina Kaif and Alia Bhatt. Katrina Kaif Is in Awe of Ranveer Singh's Gully Boy; Says Alia Bhatt Lights Up the Screen.
Alia Bhatt in Manish Malhotra's sharara drape saree
Alia Bhatt is currently busy enjoying her bestie's wedding. The actress dazzled in different Manish Malhotra creations for the same, one among which was already picked by her good friend, Katrina Kaif. The blue sharara drape saree by ace Bollywood designer was earlier selected by the Bharat actress for her recent appearance at Umang 2019. The only difference was in the colour palette. While the Brahmastra beauty picked a shade of blue, Katrina settled for her all-time favourite - red. Katrina Kaif Has A Sensible Response When Asked About Alia Bhatt and Ranbir Kapoor - Watch Video.
Katrina Kaif in the same attire for Umang 2019
Alia went a bit more traditional with her accessories. With a messy ponytail paired with a choker necklace, her styling was apt for a wedding ceremony. Meanwhile, Katrina left her hair loose and opted for a slightly contemporary necklace design. Ask us to choose between them and we'll raise both our hands. There's no winner or loser in this case. Yet, your opinion may differ. Do you think Alia nailed the creation better than Katrina or is it vice versa? Let us know your answers in the voting section below. May the best girl win.
Alia Bhatt or Katrina Kaif - Who Nailed this Manish Malhotra Creation Better?