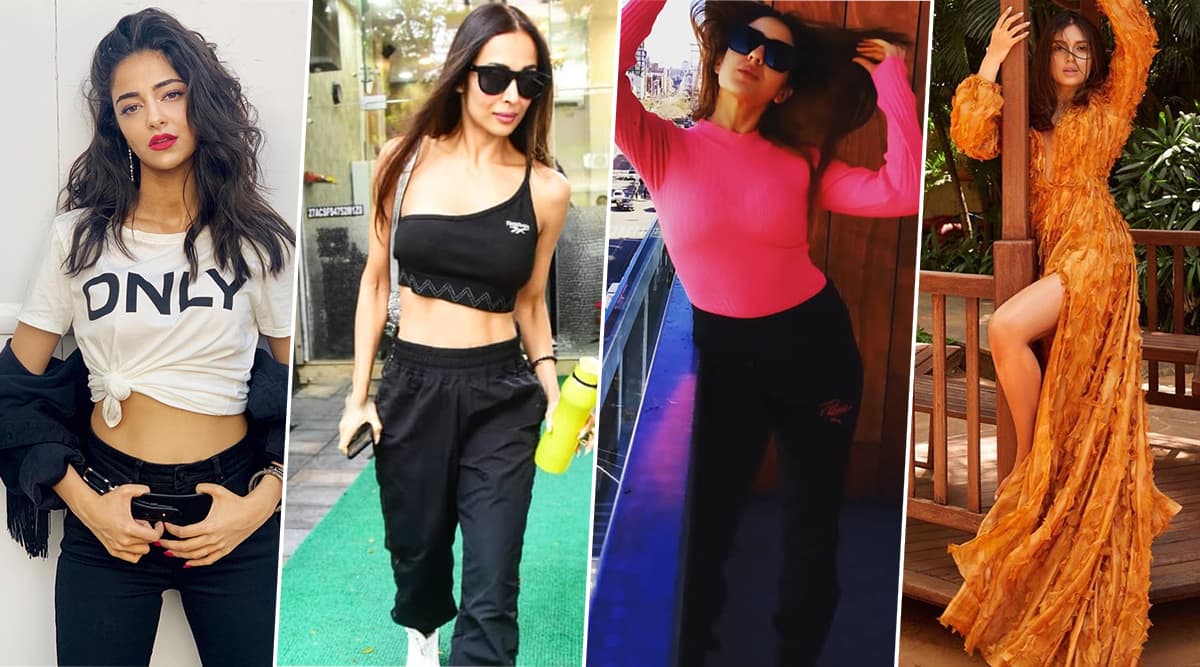 The weekend is over and we are done judging Bollywood stars for their sartorial choices, it's time to put our two cents in. This week the Katy Perry's OnePlus event was one of the biggest gatherings that saw Bollywood celebs sparkle in their best. Apart from that, there was the big Aradhya Bachchan's birthday party that saw a number of Bollywood stars in attendance. How could we forget the airport looks as well, that we couldn't help in love with! Well, while we were mesmerised with Sara Ali Khan's Pink sweater look, Ananya Panday killed us with her oh-so-perfectly-casual style. Best And Worst Dressed Celebs Over The Weekend: Deepika Padukone, Kareena Kapoor Khan, Hrithik Roshan Strutted Out In Charismatic Ensembles!
Since the gym looks were one of the weekend biggies, Malaika Arora gave her regular workout style a twist and wore a one-shoulder crop top with track pants in black. Now, that's how you pull off a perfectly edhy gym look. However, Jacqueline Fernandez on her way to the airport disappointed us a little by being able to make a denim outfit look bad. However, since it was Queen J, she pulled it off kinda well. Manisha Koirala at the Society Pride of India Honours in Mumbai took our hearts away in an elegant while salwar kurta. Whereas Esha Deol attending the same event, perhaps misunderstood it to be a typical desi wedding's cocktail party. Best And Worst Dressed Over The Weekend: Find Out How Priyanka Chopra, Ananya Pandey, Neha Dhupia, Karan Johar Fared On Our Style Meter.
The evergreen Karishma Kapoor at the airport made an easy-breezy salwar kurta look so good! Whereas talking about a little more dressy outfit, Bhoomi Pednekar's rust orange gown did set social media on fire. Let's take a look at last weeks best and worst dressed.
Best Dressed
Malaika Arora
View this post on Instagram
Bhoomi Pednekar
View this post on Instagram
Ananya Panday
View this post on Instagram
Sara Ali Khan
View this post on Instagram
Worst Dressed
Jacqueline Fernandez
View this post on Instagram
Esha Deol
View this post on Instagram
Gauri Khan
View this post on Instagram
Kriti Kharbanda
View this post on Instagram
While these are just our thoughts we would love to hear out from you whether you agree or disagree with us. This week did see celebs travel a lot and rush from one event to the other. Well, we are looking forward to seeing some great outings from Bollywood celebs.