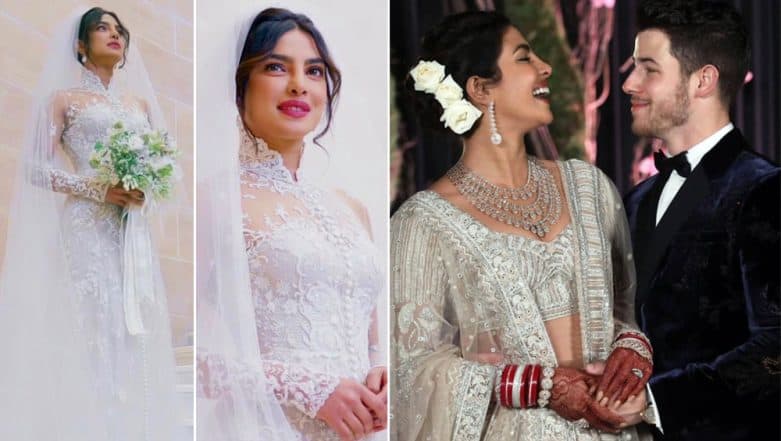 Priyanka Chopra and Nick Jonas' big fat Indian wedding justified the four heavy words that we just said. It looked royal in every way and their happy pictures were a sight for sore eyes. A section of society would be bothered about this unwanted coverage but let's not ignore the fact that these weddings deserve the kind of attention we are showering. When two insanely good-looking people, at the top of their careers, decide to settle down, it's a damn big thing. And we don't mind reporting the slightest of details or elaborate on who wore what and when. Which is precisely the reason why we even paid attention to the bride's hands. Priyanka Chopra or Meghan Markle, Whose Wedding Veil Was Longer? We Have The Answer.
Just in case, you wondering where did Priyanka Chopra's 'Mehendi Waale Haath' disappear during her Christian wedding, we may have an answer for you. Chances are high that PeeCee didn't apply Mehendi at the back of her hands and preferred only on her palms initially. That's also the reason why we couldn't see her Mehendi design in any of her sangeet functions (close observation). She applied this Indian traditional art only on her palms till her Christian wedding and later decided to add the design behind for her Indian ceremony. Her recent pictures from Delhi reception are a proof of it. Priyanka Chopra Requested her Designers to Sew her Parents' Names With Other Phrases Like 'Family' and 'Hope' on Her Wedding Attires.
Knowing how particular PeeCee is when it comes to her appearances, it was unlikely that she would sport Mehendi for her Christian wedding. Especially when Sonam Kapoor was trolled for the same. Remember the way she was criticised for making an appearance at the Cannes Film Festival this year? Pairing her modern silhouettes with this Indian art. Of course, trolling was the least she wanted on her D-day and she ensured she had a way out of it.