Jennifer Lopez is a well-known triple threat—a singer, a fine actress (remember, timeless movies like Maid in Manhattan, The Wedding Planner) and an excellent dancer. But above all is her head-turning appearances. Can words ever justify her gorgeousness? NOPE. Coming to her latest appearance that's trending all over the internet is from Milan Fashion Week. JLo walked like a dream on the runway in a new version of her iconic Versace jungle dress from 2000 Grammy Awards.  The Hustlers star closed the show for Versace Spring 2020, a runway show celebrating the oft-repeated tale in the dress that had led to the creation of Google's image search function. And almost 20 years down the line, JLo has got again netizens searching for JLo's Jungle outfit on the search engine that she graced at the Milan Fashion Week. 
Know About JLo's Outfit From 2000 Grammy Awards
JLo who first graced in the 'jungle' gown in 2000 to the Grammys left her fans in awe of her. At the time, she may not have thought how her outfit was about to make internet history. The outfit went viral before viral was even a thing. The original dress made not only a fashion history but Google history. It was well, as you have seen a green jungle-inspired dress that included a deep-V neckline and sheer material to show off her envious and desirable figure. Her gorgeous physique led so many people search for her photos from the event. It was when Google's then CEO Eric Emerson Schmidt decided that there should be a way to look for the images and not just the fashion links. It was when the idea of Google images was born.
Jennifer Lopez in Grammys 2020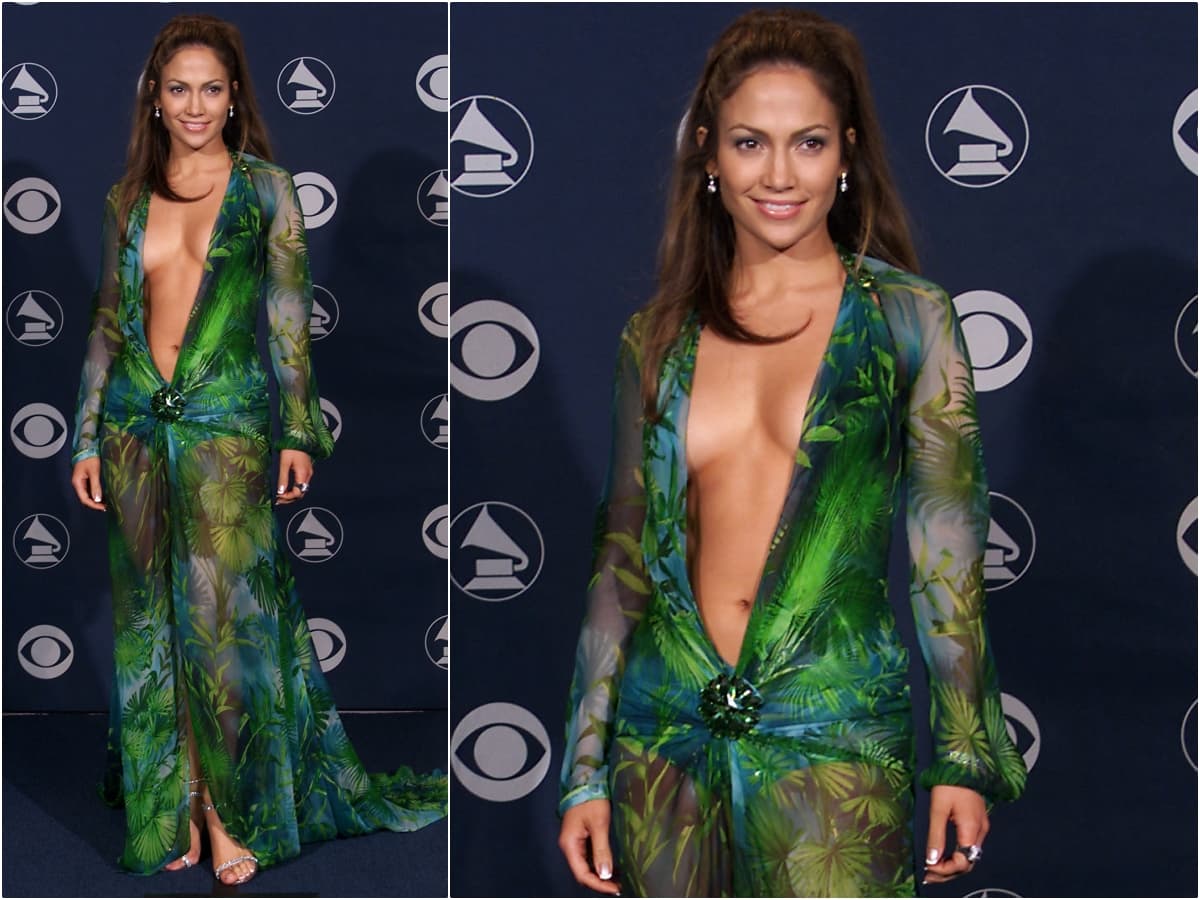 This year's Milan Fashion Week runway began with that short documentary before Lopez hit the ramp. According to The Cut, a Google image search field flashed on a screen with users commanding, "Okay Google, show me the Versace jungle dress." The response followed by images of Lopez's original look from 2000. Further, the command, "Okay Google, show me the real Versace jungle dress," and JLo herself appeared on the searches. She indeed gave a new meaning to the search for fashion pieces online.
JLo Walking The Ramp at Milan Fashion Week
Jennifer Lopez With Donatella Versace
View this post on Instagram
The world had a jaw-dropping reaction. Today we live in a world where technology is everything, but around twenty years ago as we said, something to go viral was not even a thing. JLo's look from 2000 Grammy Awards promoted the creation of a new tool that is largely a part of our lives.
(The above story first appeared on LatestLY on Sep 21, 2019 12:39 PM IST. For more news and updates on politics, world, sports, entertainment and lifestyle, log on to our website latestly.com).