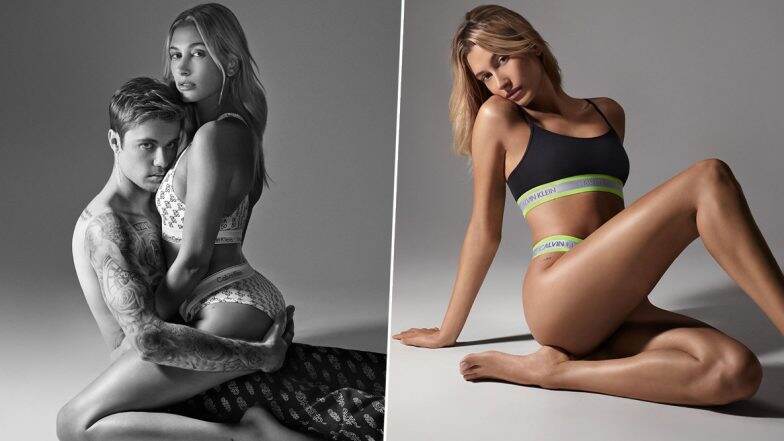 Justin and Hailey Bieber won't let the Bieber fever die! First, they post gorgeous pictures of wedding and Hailey's extravagant wedding gown, and now, they posted steaming hot pictures together for their Calvin Klein campaign. Everybody was busy drooling over Kendall Jenner but the Biebers just swooped in and stole all the attention. Hailey's solo shots might be the sexiest photos of her so far. But the picture that is making the internet lose their mind is the one where Hailey is straddling Justin. It's straight-up fire and nobody can say otherwise. Hailey Bieber Struggled to Cope With Runway Modelling As Supermodel Gal Pals Gigi Hadid, Bella Hadid and Kendall Jenner Achieved Greater Success.
Hailey Bieber hit the fans with another gasp-worthy snap of her and her husband, Justin Bieber, not long after the wedding pictures went live. Fans were struggling to cope with the cuteness in the wedding images of the duo but now, the Calvin Klein photoshoot is making fans feel different things. Justin and Hailey Bieber's Wedding Makes Fans Emotional, Beliebers Share Funny Memes and Tweets to Congratulate the Couple.
Hailey Bieber for Calvin Klein
Hailey and Justin Bieber for Calvin Klein
View this post on Instagram
The photo has Hailey Bieber straddling Justin Bieber as they both shoot a glare at the camera. Justin's hand on Hailey's butt is sexy AF and we're here for it! We love their cute pictures, we love their sexy pictures, we love them! They're easily one of the hottest couples we know of. Hailey might be afraid and intimidated of the runway but she doesn't need a ramp to steal the show. And Justin couldn't get sexier with the sleeve tattoo and chest tattoos. The two know the effect they have on their fans and at this point, they're just playing with our feelings. Have mercy you two!