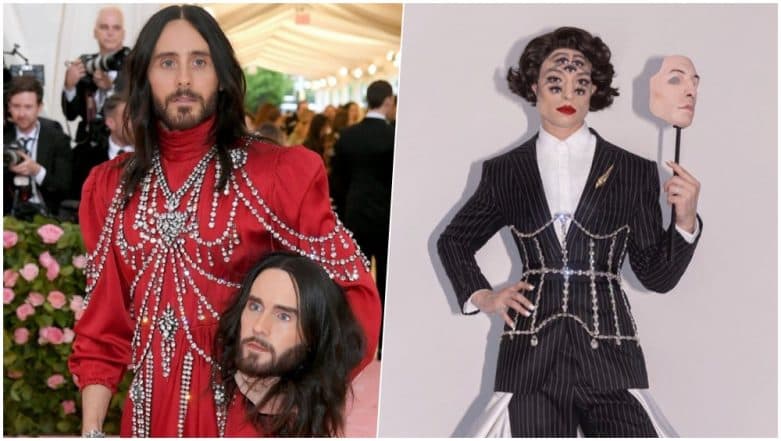 One of the biggest events of the fashion world, the Met Gala 2019 took place at the Metropolitan Museum of Art in New York on May 6. With a dedicated theme that gets out the best on the red carpet, it also sees a lot of amazingly bizarre sartorial choices. This Met Gala 2019, it was definitely Jared Leto and Ezra Miller, who had a face-off, in quite a literal sense. The theme for this year's Met Gala was camp fashion and these two actors took it to a whole new level. While Jared Leto carried his own head mask in his hand, Ezra Miller hid his own face with an optical illusion seeming like make-up. The two are clearly among the most bizarre dressed celebs at the Met Gala 2019! Met Gala 2019 Red Carpet Pics: Priyanka Chopra Pulled Off a Dramatic Look While Deepika Padukone Kept it Elegant.
Suicide Squad actor Jared Leto wore a long-sleeved red, silk gown from Gucci. The gown was embellished with jewels but the unusual part came in with his headgear or his head in itself. Leto carried a wax replica of his own head. The head accessory is also a part of Gucci's collection of head clutches. But Leto got some serious competition from Fantastic Beasts: The Crimes of Grindelwald actor Ezra Miller. Miller got on all eyes on his thanks to the unusual makeup.
Views Pictures of Jared Leto and Ezra Miller at Met Gala 2019:
Jared Leto with two heads
.@JaredLeto shows us that two heads may be better than one on the #MetGala red carpet. #MetCamp pic.twitter.com/TVl6cOZstA

— The Met (@metmuseum) May 7, 2019
Ezra Miller has all eyes
#EzraMiller dressed as the epitome of camp on the #MetGala red carpet. #MetCamp pic.twitter.com/nQnsZWnicr

— The Met (@metmuseum) May 7, 2019
While the people on the red carpet were flattered, social media too took notice of their costumes. Bizzare or not, these two actors managed to get the attention of fashion police as well as the audiences. Well, whose look did you like more? Are you on Leto's side or Miller's side, who did it better?