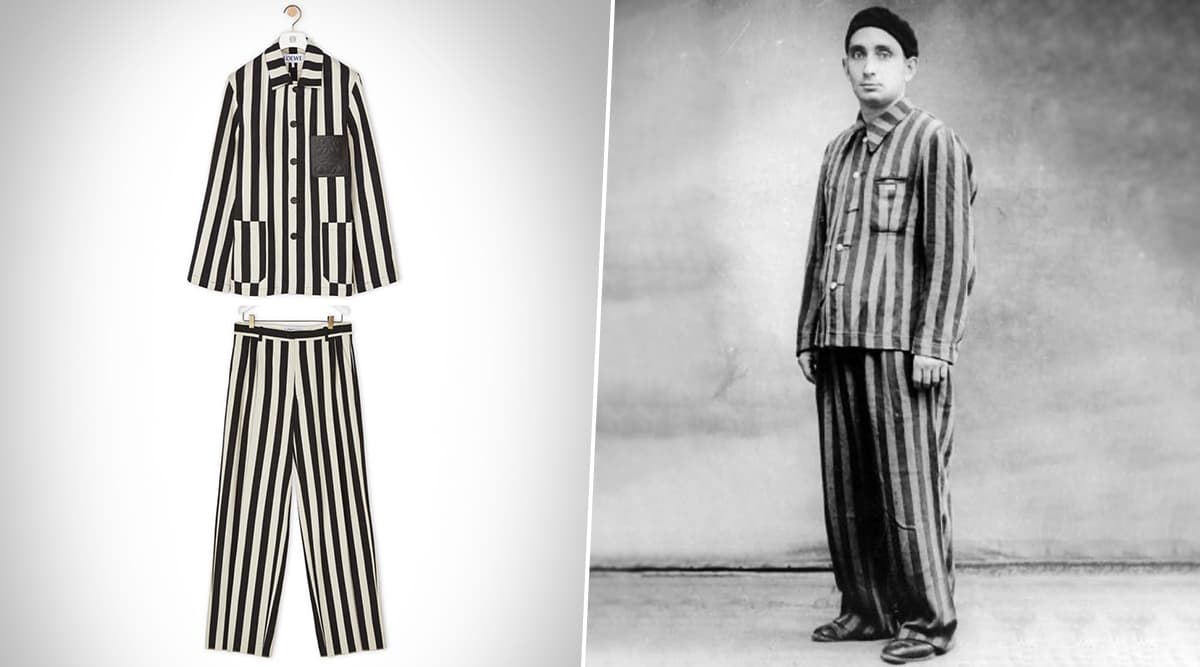 Spanish luxury fashion brand, Loewe based in Spain has got itself into some serious trouble after introducing their latest collection. Last week, Loewe introduced the William De Morgan capsule collection which the brand report it to be inspired by the 19th-century British potter and ceramicist. The items in the collection are reportedly being sold for about 5,000 USD. However, one of them was comparatively less expensive than the rest, still bearing a hefty price tag. It was a two-piece ensemble that the brand named "Stripe Workwear Jacket White/Black." But it was not well received by the followers. The outfit reminds the uniform that prisoners in the Nazi concentration camp wore during the Holocaust. The pictures of the outfit which was uploaded on Loewe's Instagram account has been removed the brand reportedly called out the two-piece followed by criticism. Skirt With a Hood For Your Bum? H&M's Latest Product Has Disappointed The Twitterati. 
The white and black striped two-piece ensemble was priced about 1,840 USD. Designer Jonathan Anderson reported that the collection "has a sort of wizardry about it, kind of like an early Harry Potter." But not everyone thought the same. Many who criticised the outfit, including fashion industry watchdog—Diet Prada, noted the similarities to the concentration camp uniforms worn by the Holocaust victims. The uniform also consisted of black and white, vertical striped, button-down shirts and pyjamas. Zara's $50 Polka Dot Dress Is the Newest Object of Internet's Obsession Even If It Triggers Your Trypophobia.
View Pics:
Followed by the criticism, Loewe issued an apology on their Instagram account and has since removed the products from its website, reported CNN. "It was brought to our attention that one of our looks featured in a magazine and part of our Arts and Crafts ceramicist William De Morgan could be misconstrued as referring to one of the most odious moments in the history of mankind. It was absolutely never our intention and we apologize to anyone who might feel we were insensitive to sacred memories. The products featured have been removed from our commercial offering," read the statement.
People online wondered how many people in various offices had signed the design, without even noticing the striking similarities with the uniforms of concentration camps. Inquisitr reported that though the fashion brand removed the outfit from their website, it is being sold through other, third-party retailers. This is not the first time that fashion brands have come under significant criticisms for selling clothes reminiscent of the Holocaust. In 2014, Zara apologised in 2014 for marketing a striped T-shirt bearing a yellow star that reportedly was similar to uniforms worn by Jewish concentration camp prisoners.