With Valentine's Day over, single people can take a respite. As all the love and mush that was present in the air all around or social media will hopefully take a break. And starting today is the Anti-Valentine's Week which dismisses every emotion of love. The Anti-Valentine Week 2019 will begin from February 16 and go on till February 21. So as much as the couples celebrate Valentine's Day with excitement, those who hate all of it bring in the Anti-Valentine's Days with equal enthusiasm. So Anti-Valentine wishes and greetings are passed on over WhatsApp, or unromantic messages are shared over social media like Facebook and Instagram. If you are looking for Anti-Valentine messages and wishes let us give you a collection of few greetings. These messages celebrate your singlehood and take pride in being single. You can exchange these Anti-Valentine messages, GIFs, images, quotes with your other single friends. Anti-Valentine Week 2019 Quotes: Savage Sayings & GIF Images to Share and Embrace Singlehood.
Just like Valentine Week is all about love, needless to say, the Anti-Valentine's Week is the opposite. Starting with Slap Day, the other days are Kick Day, Perfume Day, Flirting Day, Confession Day, Missing Day and ends with Breakup Day. So all the days have some negation to it. But well, you can send the positive messages of being single by sharing these Anti-Valentine quotes and messages. We give you some single and proud messages, quotes and Happy Anti-Valentine's Day greetings to send to all your friends. Anti-Valentine's Day 2019: Funny Bajrang Dal Memes and Jokes That Are So Dank That It Is Crazy.
Anti-Valentine's Day 2019 Messages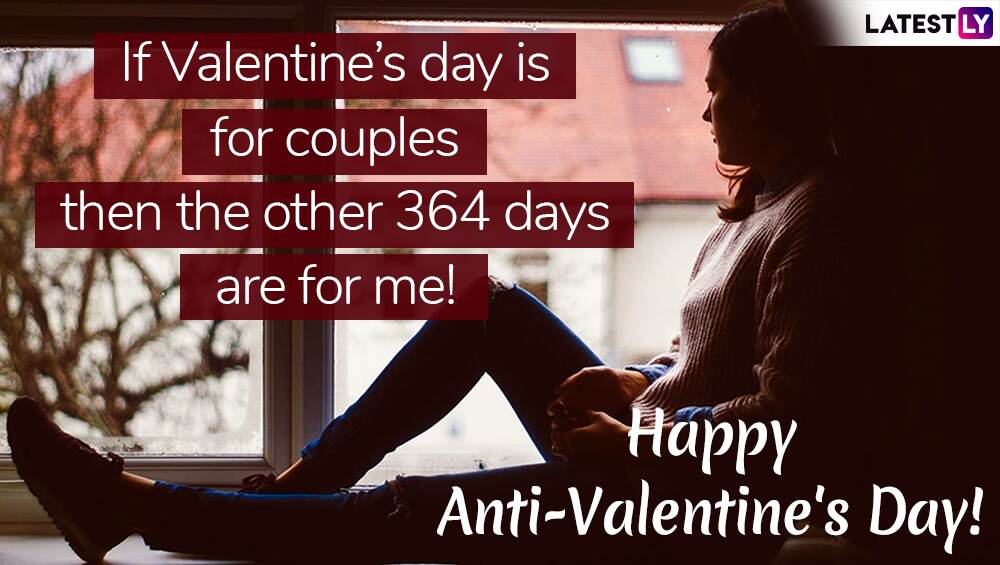 Message reads: If Valentine's day is for couples then the other 364 days are for me! Happy Anti-Valentine's Day!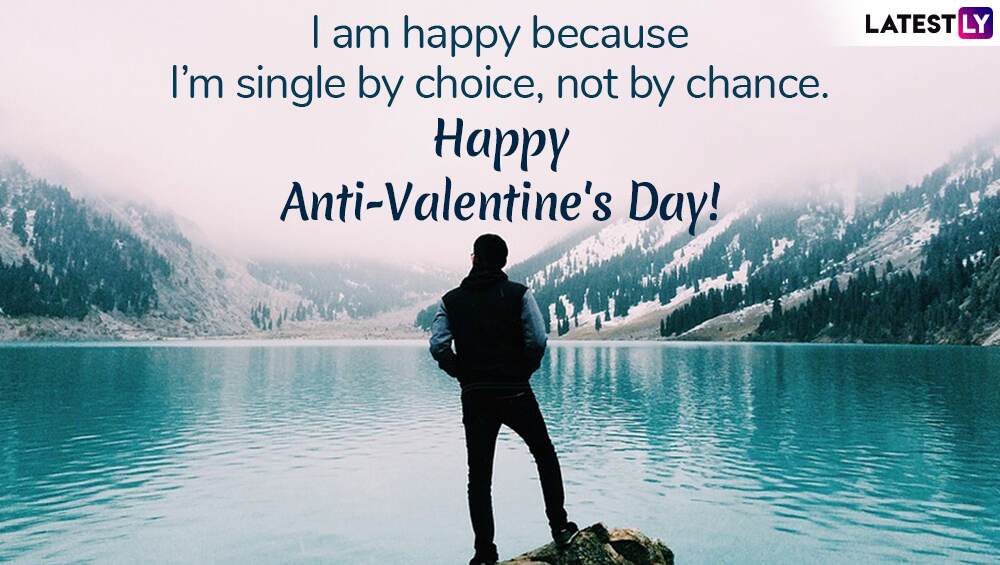 Message reads: I am happy because I'm single by choice, not by chance. Happy Anti-Valentine's Day!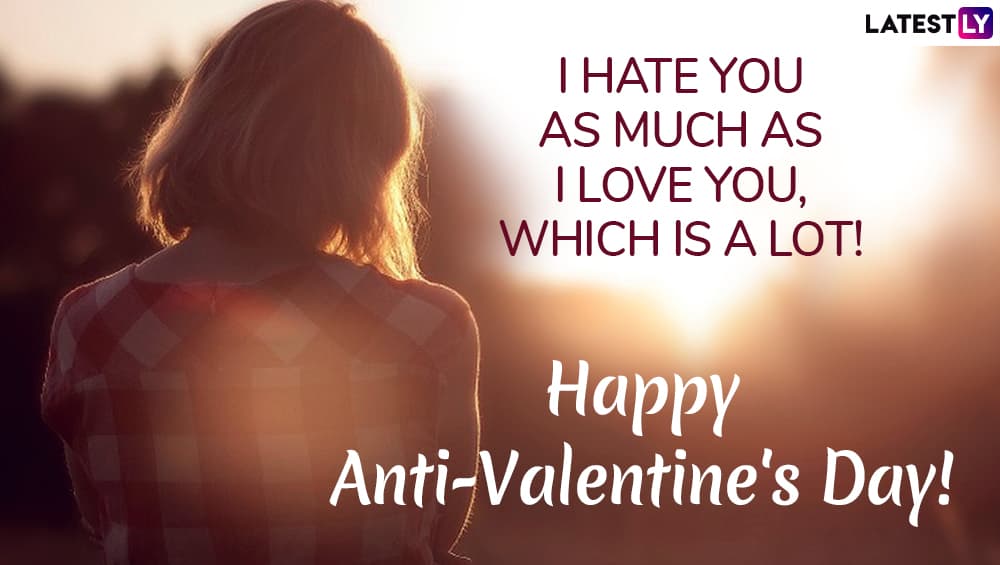 Message reads: I Hate You As Much As I Love You, Which Is A Lot! Happy Anti-Valentine's Day!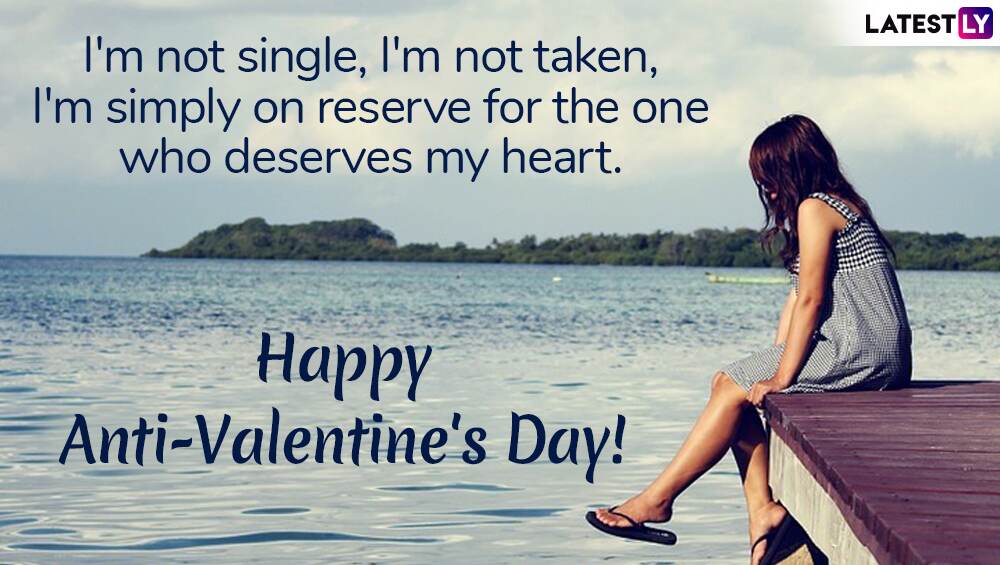 Message reads: I'm not single, I'm not taken, I'm simply on reserve for the one who deserves my heart. Happy Anti-Valentine's Day!
Message reads: Be with someone that makes you happy! Happy Anti-Valentine's Day!
Watch Video of Anti-Valentine Day 2019 Wishes
 Anti-Valentine's Day GIFs
Love Stinks!
Break Up GIF
Anti-Valentine's Day
Anti-Valentine's Day WhatsApp Stickers
You might be receiving a lot of love stickers for Valentine's Day on WhatsApp. But worry not, you can give it all back with Anti-Valentine or Anti-love stickers on WhatsApp. There are Anti-Valentine GIF stickers which can send you day-wise greetings for the entire week.
If Valentine's Day wishes, greetings, posts on social media give you the cringe then you can already start celebrating the Anti-Valentine's day. Do not wait for Valentine's Day to pass and just carry on with your single and proud celebrations. We hope the above messages, single quotes, GIFs help you to pass on the greetings for the anti-love week.
(The above story first appeared on LatestLY on Feb 15, 2019 08:48 AM IST. For more news and updates on politics, world, sports, entertainment and lifestyle, log on to our website latestly.com).