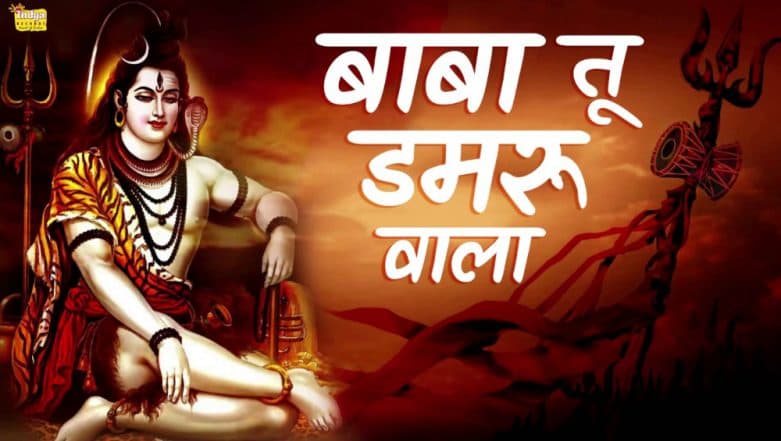 The air is filled with the chants of 'Bam Bam Bhole' and 'Har Har Mahadev.' And it tells you that Mahashivratri, the biggest Hindu festival in honour of Lord Shiva is around the corner. Also spelt as Maha Shivaratri, the 'Great Night of Shiva' sees a grand celebration nationwide including Bhojpuri-speaking states of Uttar Pradesh, Bihar and Jharkhand. Mahashivratri 2019 which falls on March 4 is one of the major festivals in these states, especially with one of the Jyotirlinga, Baba Baidyanath Dham present in Deoghar, Jharkhand. Devotees celebrate Mahashivratri with a lot of zeal and enthusiasm. Bhojpuri artists have recorded several songs to pay an ode to Bholenath. And on occasion of Maha Shivaratri 2019, we bring you a collection of best Bhojpuri songs, including Shiva bhajans (devotional songs) and other lively music videos to celebrate the day. Mahashivratri 2019 Songs Playlist: From 'Jai Jai Shiv Shankar' to 'Namo Namo,' Hear Bollywood's Ode to Lord Shiva on Maha Shivaratri.
Maha Shivaratri is celebrated over three or ten days based on the Hindu lunisolar calendar. We have Masik Shivaratri every lunar month, i.e. 12 per year. However, the main Shivaratri falls on the 13th night of waning moon and 14th day of the Phalguna (Magha) month. This is called Mahashivratri, or great Shivaratri or the 'Great Night of Shiva.' Now, Lord Shiva is loved by all. He is called Mahadeva, which means Shiva is 'God of Gods'. He is easy to please, though you would never want to invite his wrath. Lord Shiva seeks honesty, pureness of heart and simplicity in his devotees and Shiva's benign blessings shower those who revere him with all their heart. Maha Shivaratri 2019 Songs by Sonu Nigam: Listen to 'Shiv Shankara' and 'Bam Bhole Bam' Devotional Songs on Mahashivratri.
Apart from religious rituals and customs, Maha Shivratri is also famous for its fun celebrations. Bhang, an edible preparation of cannabis is Shiva's favourite and is offered as prasad on the festival. There is a lot of singing and dancing to celebrate Lord Shiva's wedding with Shakti in the form of Parvati. It is one of the most important legends related to the festival of Mahashivaratri. Many Bhojpuri and Maithili singers have recorded songs capturing the fun mood of Maha Shivaratri. We have the likes of Manoj Tiwari, Sharda Sinha, Dinesh Lal Yadav 'Nirahua,' Pawan Singh, Khesari Lal Yadav, Sunny Kr Sanya, Rinku Ojha, and more. Check it out.
1. Shiv Ki Dulari, Shivratri Bhajan
Bhojpuri star actor-singer turned politician has given many musical gems to the regional entertainment industry. One of them is "Shiv Ki Dulari," a devotional song that is sung as Shivratri bhajan.
2. Bhola Ye Kanwariya
Devotees of Lord Shiva who go on an annual pilgrimage, Kanwar Yatra is one of the main themes of Shivratri or Shiva songs. The song "Bhola Ye Kanwariya" is from 2009-album Banke Kawanriya Baba Duariya and sung by Sunny Kr Sanya.
3. Bhajlo Subah Shaam
"Bhajlo Subah Shaam" is sung by Rinku Ojha. The peppy track is perfect for everyone who wishes to dance during Mahashivratri celebrations.
4. Hari Om Hari Om
"Hari Om Hair Om" is another good track from Banke Kawanriya Baba Duariya and is again voiced by Sunny Kr Sanya.
5. Kauna Munh Shiv Jogi
No list is complete without the presence of a Sharda Sinha song. The legendary folk-singer who is famous for singing devotional songs during Chhath Puja has also sung for other festivals such as Shivratri. Listen to her "Kauna Munh Shiv Jogi," in which she pays ode to Lord Shiva.  
Mahashivratri Special: Bhojpuri Devotional Songs Audio Jukebox
We have also included Shiva songs jukebox as a part of Shivratri special for you to enjoy and appreciate regional songs more. Devotees will be celebrating the festival of Shivaratri by observing fast (vrat) and holding an all-night vigil and worshipping Lingam to appease Lord Shiva. We wish everyone who is celebrating the 'Great Night of Shiva' a very Happy Maha Shivaratri 2019.