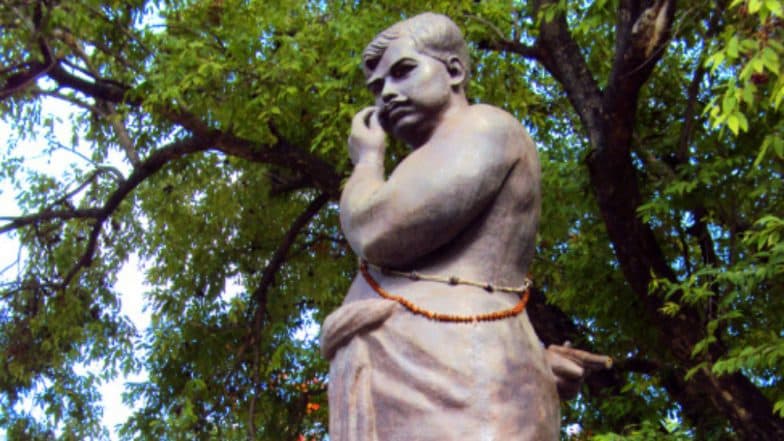 Chandra Shekhar Azad born on July 23, 1906, was popularly known as Azad. He was born in the Jujhautiya Brahmins family of Pandit Sitaram Tiwari and Jagrani Devi in Bhavra village in present-day Alirajpur district of Madhya Pradesh. The Indian revolutionary reorganized the Hindustan Republic Association under its new name Hindustan Socialist Republican Army. He died on February 27, 1931, in Allahad. On his death anniversary, Twitterati is pouring in with tributes saluting his dedication to the Indian freedom struggle.
Azad had popularly vowed that he will never be arrested by the British Army and hence adopted his last name. When held by the Britishers, he killed by shooting himself in the head. Police had surrounded Azad and hit on his right thigh making it difficult for him to escape. With just one bullet in his pistol, he shot himself keeping his pledge of never being captured alive. He killed himself in Alfred Park in Allahad after which the park was renamed as Chandrasekhar Azad Park. Several schools, colleges, roads and other institutions were also renamed thereafter.
One of his popular sayings is, "Dushman ki goliyon ka hum samna karenge, Azad hi rahein hain, azad hi rahenge!" (Will face the foe's bullet, I am free, I shall remain free.)
My tributes to the legend of the Indian Revolutionary Movement Shri #Chandrashekharazad on his day of martyrdom. He stands as a tall, inspirational figure for the youth to this day. pic.twitter.com/2sOvveQArt

— Manohar Lal (@mlkhattar) February 27, 2018
Chandra Shekhar's mother wanted him to be a great Sanskrit scholar and persuaded his father to send him to Kashi Vidyapeeth in Varanasi to study Sanskrit.
A tribute to the great leader freedom fighter #chandrashekharazad remembering on his death anniversary

Pic1:- Chandra Shekhar Azad surrounded by British police force

Pic2:- The colt pistol of #Azad .

Pic3:- The place in Alfred Park, #Allahabad

PC Allahabad museum.#Kulbeli pic.twitter.com/z1GGW3d6eL

— Kulbeli.com (@KulbeliTweets) February 27, 2018
Even though he was just a student in 1921 when Mahatma Gandhi launched the non-cooperation movement, he joined it.
My tributes to revolutionary freedom fighter, Chandra Shekhar Azad on his death anniversary. His courage and unconditional love for the motherland continue to inspire all Indians. #Chandrashekharazad pic.twitter.com/DEakrpYA6d

— VicePresidentOfIndia (@VPSecretariat) February 27, 2018
He is popularly known for the Kakori Rail Dacoity held in 1925 and the assassination of assistant superintendent of police John Poyantz Saunders in 1928.
My humble tributes to the great freedom fighter #ChandraShekharAzad on his death anniversary. His courage, indomitable spirit n sacrifice will inspire generations to come.

— Ashok Gehlot (@ashokgehlot51) February 27, 2018
He learned archery from the tribal Bhils of Jhabua district. The skill came useful during the arms struggle against the Britishers.
Humble tribute to great revolutionary freedom fighter #ChandraShekharAzad ji on his sacrifice day today. His sacrifice for the country will always continue to inspire us. pic.twitter.com/lqXXuc7FEL

— Om Birla (@ombirlakota) February 27, 2018
Following the death of Lala Lajpat Rai, Bhagat Singh joined Azad who then trained him in covert operations.
My heartfelt tribute to the legend "Chandra Shekhar Azad" on his martyrdom day. He is the epitome of courage and patriotism. #ChandraShekharAzad #vandemataram #DeathAnniversary pic.twitter.com/BI2gdhPoub

— Jayanta Malla Baruah (@jayanta_malla) February 27, 2018
Young Azad was deeply hurt by the Jalliawallah Bagh Massacre of 1919, where thousands of unarmed civilians were killed. Azad was a believer of socialism and wanted it to be the foundation for future India. Many movies have been made on the life of Chandra Shekhar Azad and his struggle for the Indian independence struggle. Some among the popular ones include Manoj Kumar's 1965 film Shaheed, Sunny Deol as Azad in the movie '23rd March 1931: Shaheed' and 'The Legend of Bhagat Singh', starring Ajay Devgan. Aamir Khan played Azad in the popular movie 'Rang De Basanti' which was about the lives of freedom fighters.