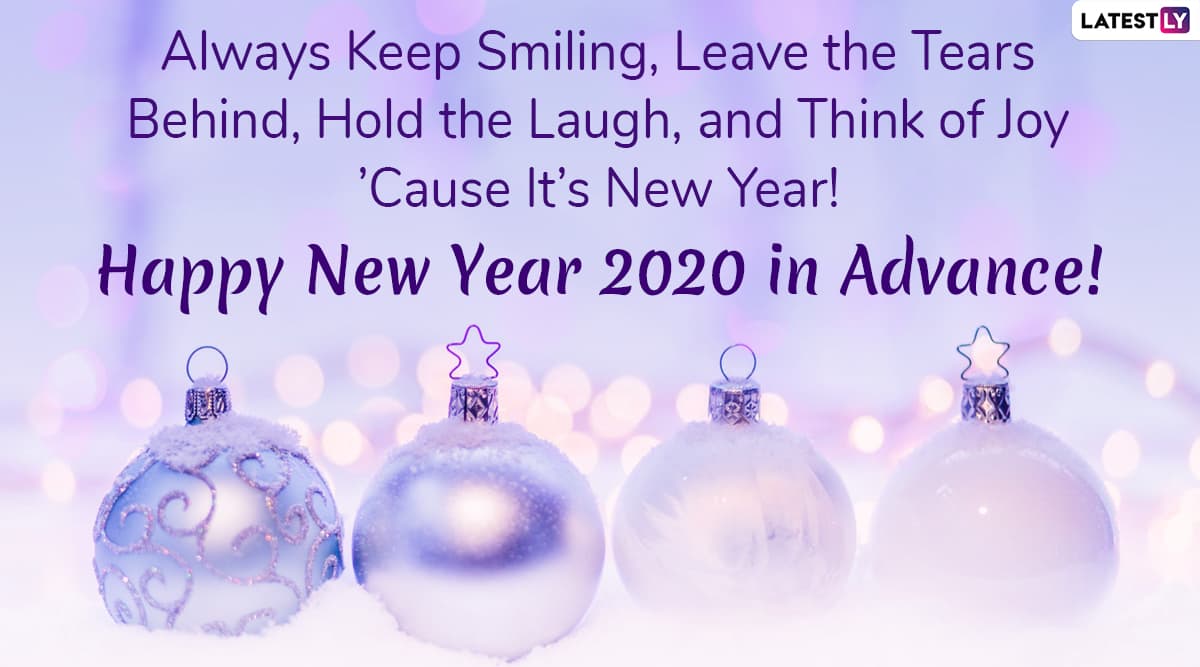 It is the end of another year! Why is it so hard to believed that 2019 has ended too? And what is fuelling up more is that it is not just another but a decade of 2st century coming to an end. It is huge! Ringing in 2020 cause for major celebration, for spending time with friends and family and cherishing the old memories. A lot has happened this year. These Happy New Year messages, well wishes and quotes will remind you to uphold New Year desires, help you fill the blank space in your New Year card and above all, share the joy with others this holiday season. Happy New Year 2020 in advance greetings and HNY wishes are great words to mark New Year's Eve with happiness. You can send these quotes, New Year 2020 messages, images and GIFs through Facebook and other social media platforms. In addition, we have also attached the direct link to download Happy New Year WhatsApp stickers, which will make your HNY messages more fun.
The end of December, every year brings in joy as people gear up for the holiday season. With the aftermath of Christmas, comes in New Year celebrations. With the toasts being raised and fireworks explode in the night sky, it is significant to recognise the special symbolism this holiday brings with it. We start New Year with a promise to new opportunities and the possibility to change our lives for the better. So keep your wishes short, but impacting enough to read the emotions between the lines. New Year 2020 Last-Minute Plans: 9 Quick Fixes to Celebrate New Year's Eve!
The advent of online messaging apps and social media sites have redefined the celebrations of New Year. You are not ringing it right, unless you share a wonderful picture, captioned with meaningful words of New Year wishes. So welcome New Year 2020 by sending out these beautiful and inspiring messages to your loved ones to mark this special time of the year. 5 Ways to Enjoy New Year's Eve at Home With Friends And Family.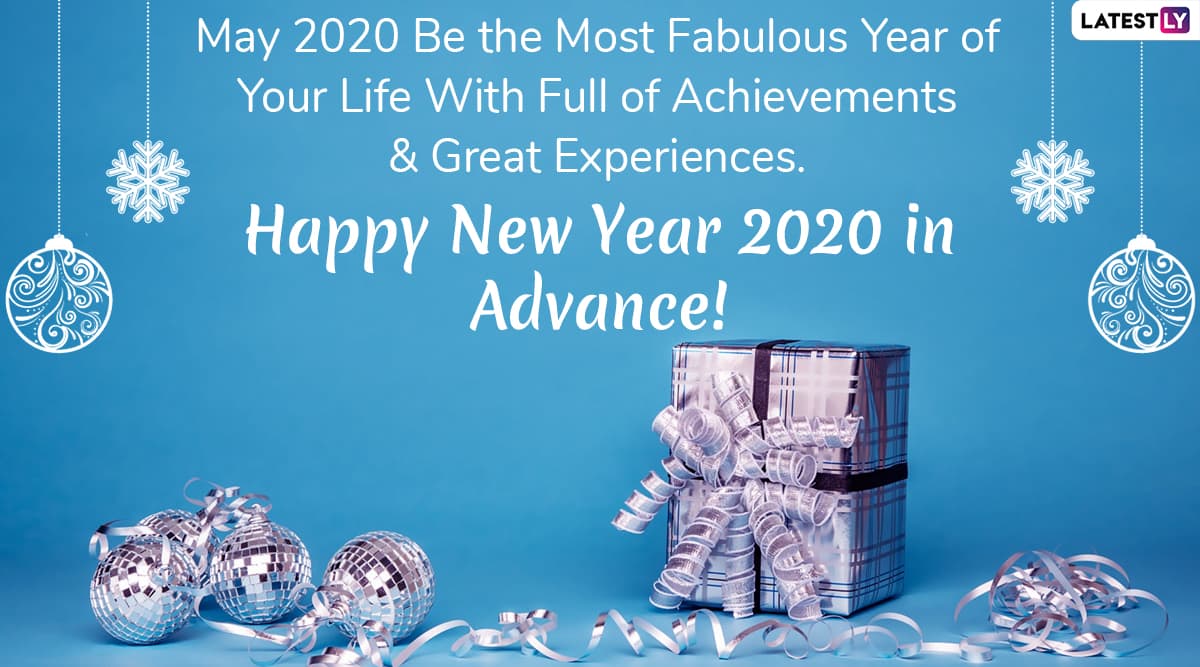 WhatsApp Message Reads: May 2020 Be the Most Fabulous Year of Your Life With Full of Achievements & Great Experiences. Happy New Year 2020 in Advance!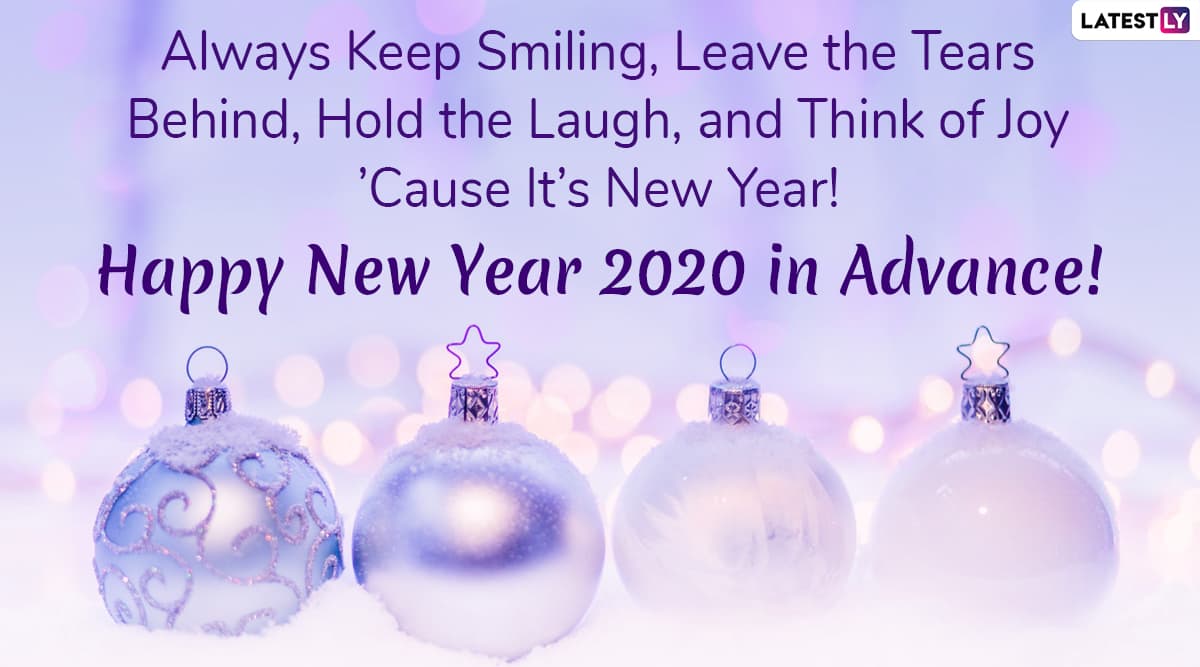 WhatsApp Message Reads: Always Keep Smiling, Leave the Tears Behind, Hold the Laugh, and Think of Joy 'Cause It's New Year!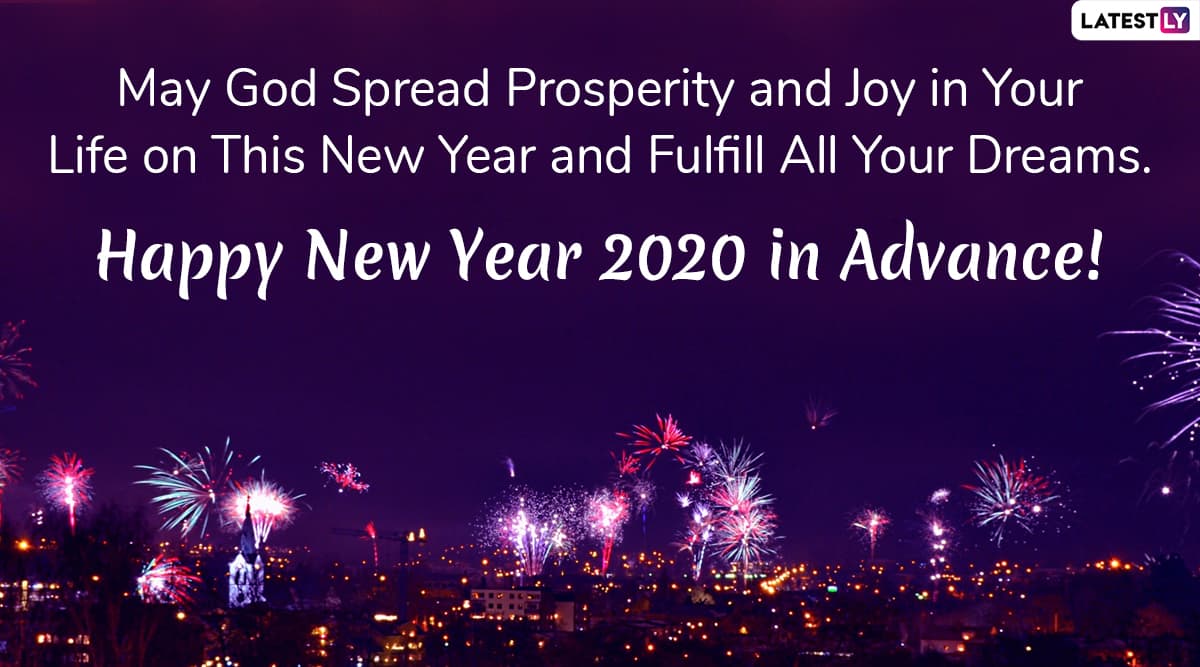 WhatsApp Message Reads: May God Spread Prosperity and Joy in Your Life on This New Year and Fulfill All Your Dreams. Happy New Year 2020 in Advance!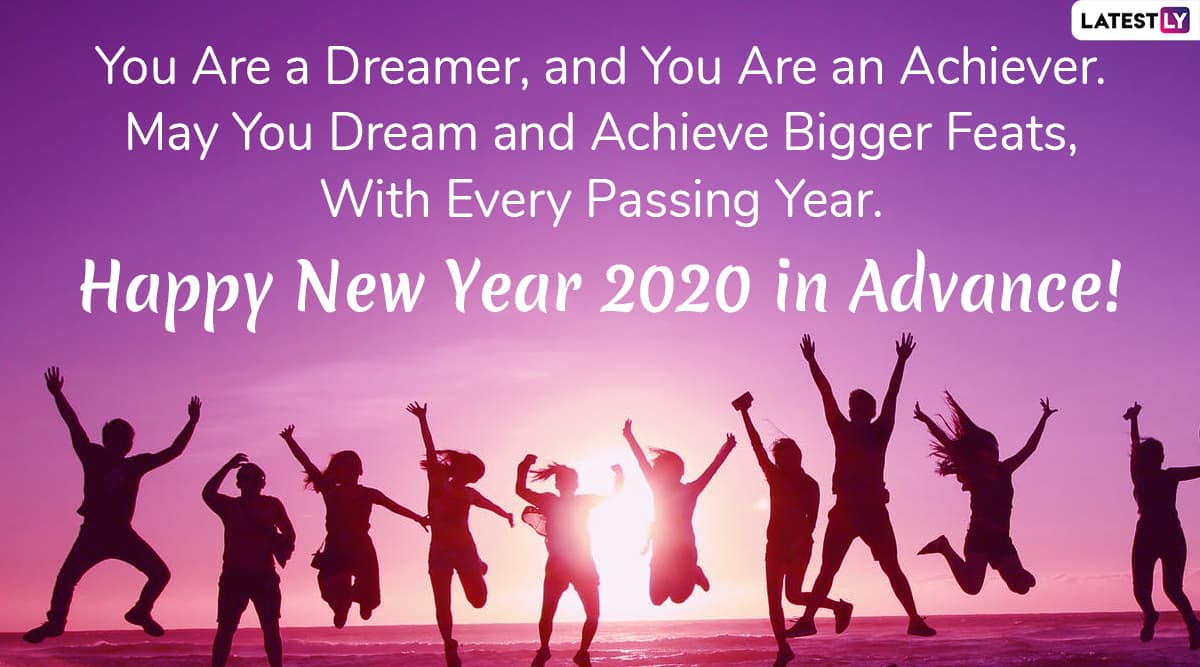 WhatsApp Message Reads: You Are a Dreamer, and You Are an Achiever. May You Dream and Achieve Bigger Feats, With Every Passing Year.
Happy New Year 2020 GIF Image:
WhatsApp Message Reads: I Hope Your Life Will Be Full of Surprise and Joy in the New Year That's About to Begin. May You Be Blessed With Everything You Want in Life.
How to Download Happy New Year 2020 WhatsApp Stickers?
New Year celebrations have been redefined, thanks to the advent of messaging apps! Text messages have become more interesting today, than how it used to be, a decade ago, maybe. WhatsApp has unveiled wonderful Happy New Year 2020 stickers for its users. Android phone users can visit the Play store app, or simply click here to download.
Watch Video: Happy New Year 2020 Wishes In Advance
We hope these Happy New Year 2020 wishes in advance will be useful to you while celebrating the New Year's Eve. Download these images for free and send it through WhatsApp and other messaging apps to remind your dear ones, that you are welcoming the upcoming year, together. May 2020 be an extraordinary one!