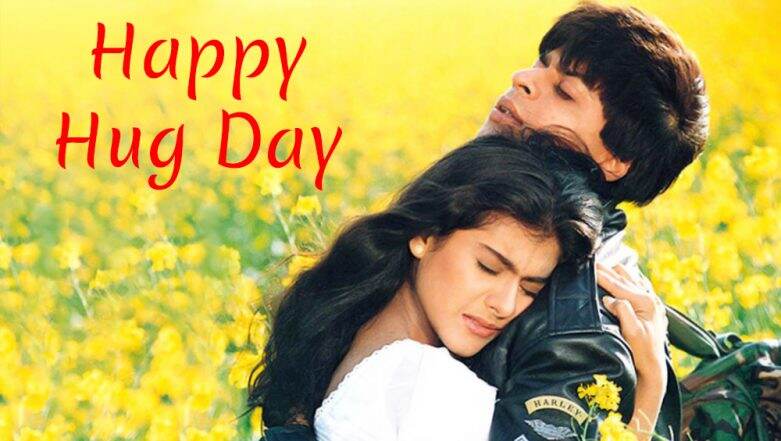 The Valentine week is just another excuse to pamper and shower your partner with immense love, so why not do it with a romantic playlist. From Propose Day to Teddy Day and more, the week is filled with all things love. Hug day is celebrated on February 12 and is one of the most lovable celebrations of the gesture of hugging. There's no doubt that a hug can solve all your problems and even express your feelings without actually saying anything. This Valentine's Day 2019, make sure you celebrate hug day by showering your loved one with lots of them. In the meantime, we also look at some of the most romantic songs that revolve around the beautiful gesture of hugging. Valentine Week 2019 Full List in Image: Date Sheet of Rose Day, Propose Day, Kiss Day to Valentine's Day for Free Download Online.
1. Humko Humise Chura Lo
One of the most romantic numbers from Mohabbatein , "Humko Humise Chura Lo" is all about drowning in the love.
2. Tujhe Dekha Toh Ye Jaana Sanam
This is probably the first song that comes to your head when you think of hugs. Don't we all wish to someday ape the super filmy running through the fields-hugging your partner moment!  Hug Day 2019: A Warm Embrace Can Speak Louder Than Words! Different Types of Hugs and Their Meanings.
3. Bahon Ke Darmiyaan
Sometimes there's nothing more peaceful than holding your loved one in your arms and having a close dance. "Baahon Ke Darmiyaan" from Khamoshi is exactly that number. The romantic vocals of Hariharan and Alka Yagnik are soothing and will set the mood just right.
4.Lag Ja Gale
This classic tops when it comes to expressing the beautiful feeling of love. The song even though on a sadder note is one of the best-written songs that talks about love and longing and more over, sharing that last moment, perhaps one last hug.
5. Bahon Mei Chale Aao
Another Bollywood classic that sweetly describes hugging is "Baahon Mei Chale Aao". The song lyrics are about a woman asking her partner to hug her after they've had a small fight and she's trying to make up.
6. Gale Lag Jaa
One of Katrina Kaif's hottest songs is "Gale Lag Ja" from De Dana Dan. The sensuous number is all about a cosy embrace.
We hope you enjoyed our compilation of the 'Gale Lag Ja' songs. Let this Valentine week be a romantic one for you and your partner with many moments filled with some adorable hugs!