The auspicious month of Shravan begins and the period holds a lot of significance for Hindus across the country. Of all the months, Sawan maas is considered most auspicious, and this year, the festivity ends on August 26. Shravan month is synonymous with auspicious festivals and events. Since it is a favourable time for many individuals, one enjoys this holy month by performing Shravan maas Shiva Puja. The ruling deity is Hindu Lord Shiva. In this month, each Monday is celebrated as Shravan Somvar across all temples by followers. The Hindu deity is worshipped throughout, some people even indulges into vegetarian food only, and they bare themselves from consuming alcohol in this month-long observance. Being in a festive mood in Shravan 2018, Shiv bhakts look for devotional messages and greetings to wish their near ones through SMS, Facebook and other social media sites. Shravan (Sawan) Month 2018: Date Calendar, Significance, Shravan Somwar Fasting Schedule of The Holiest Hindu Maas. 
According to the English calendar, Shravan month usually begins in late July. However, the dates vary in western and southern parts of the nation. Where Rajasthan, Uttar Pradesh, Madhya Pradesh, Himachal Pradesh, Bihar, Chhattisgarh and others will observe Shravan 2018 from July 28. On the other hand, in Andhra Pradesh, Goa, Maharashtra, Gujarat, Karnataka, Tamil Nadu, Shravan begins from August 12. Sawan Somwar greetings and GIF images are also sent during the month-long celebration by various religious observances.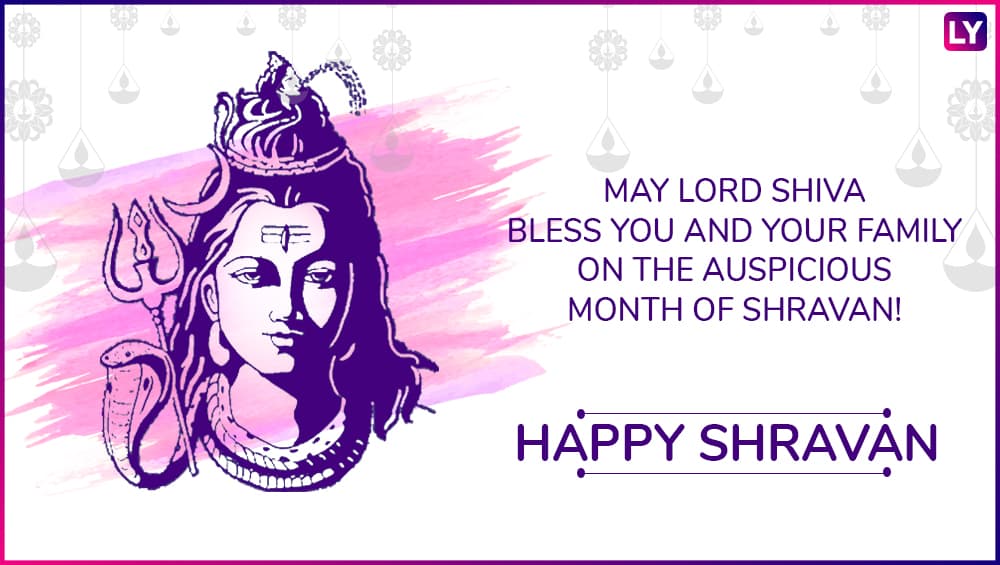 WhatsApp Message Reads: May Lord Shiva Bless you and your family on the auspicious month of Shravan! Happy Shravan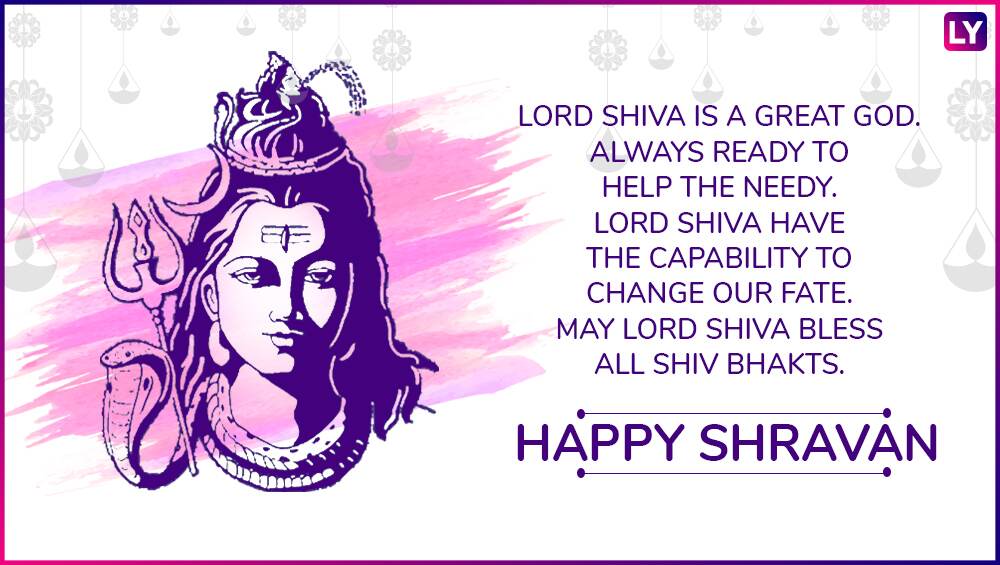 WhatsApp Message Reads: Lord Shiva is a Great God. Always ready to help the needy. Lord Shiva have the capability to change our fate. May Lord Shiva bless all shiv bhakts. Happy Shravan
GIF Image Reads: May the almighty Lord Shiva bless you with all the good things in life and grant you ample peace and good health! Happy Shravan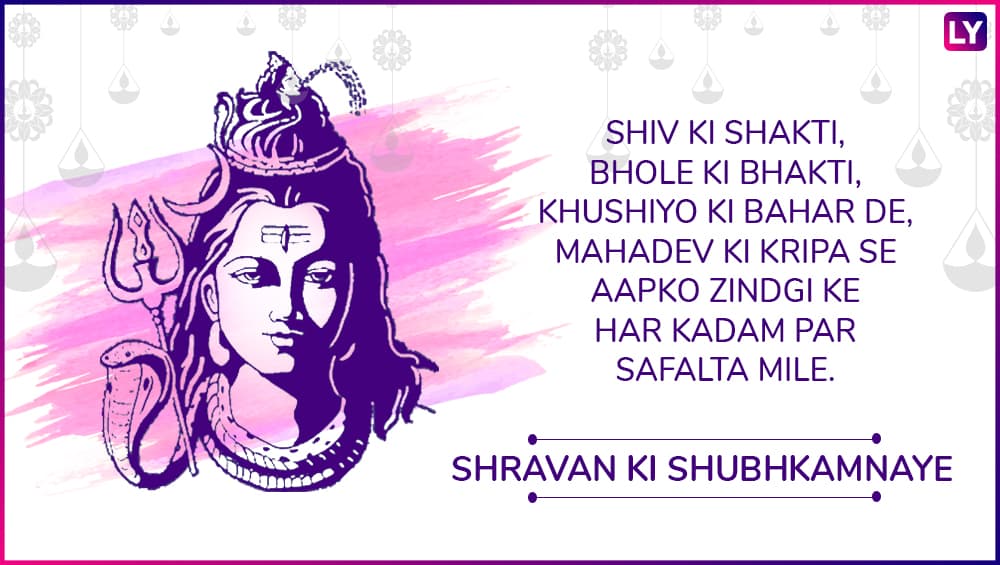 WhatsApp Message Reads: Shiv ki shakti, bhole ki bhakti, khushiyo ki bahar de, Mahadev ki kripa se aapko zindgi ke har kadam par safalta mile. Shravan ki shubhkamnaye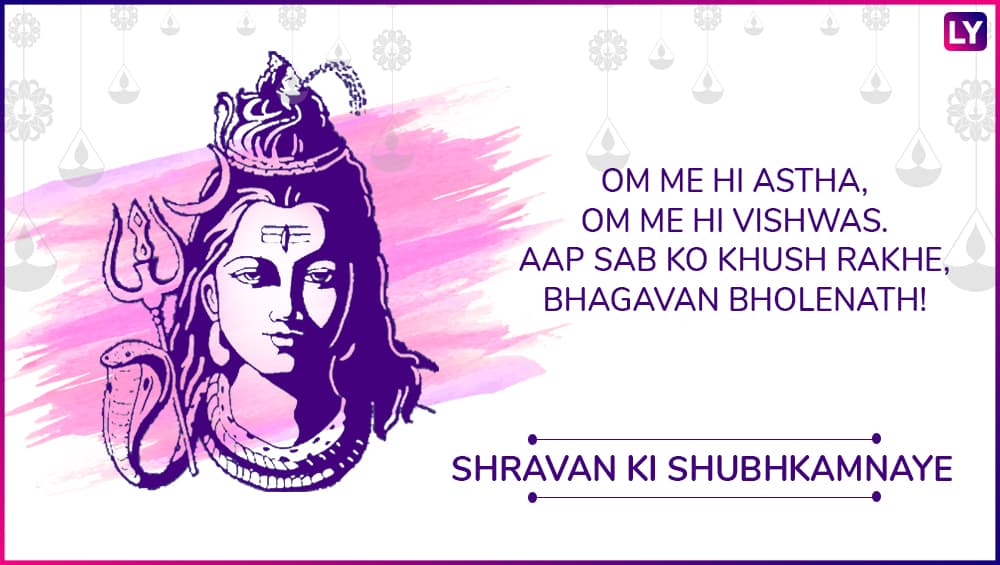 WhatsApp Message Reads: Om me hi astha, Om me hi vishwas. Aap sab ko khush rakhe, Bhagavan bholenath! Shravan ki shubhkamnaye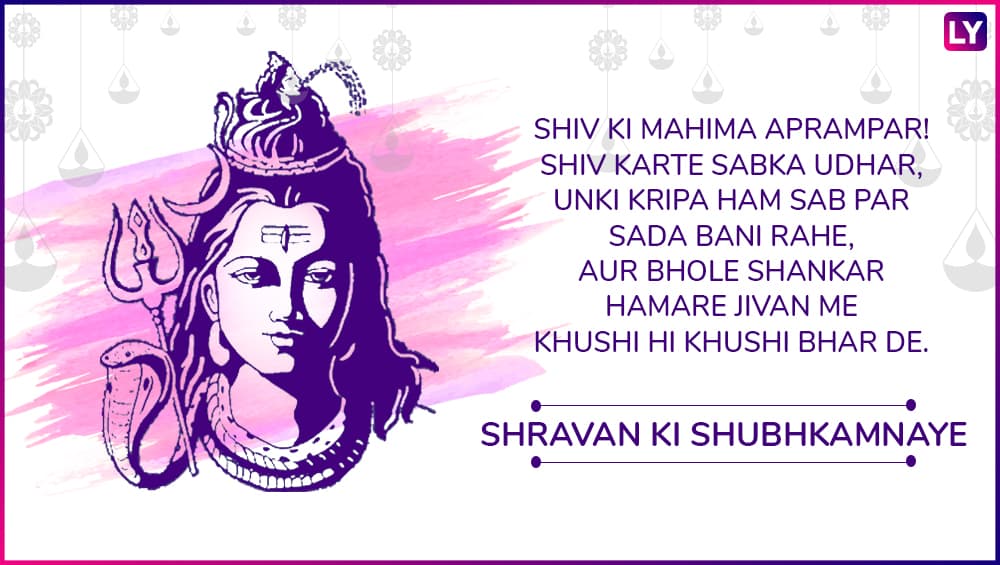 WhatsApp Message Reads: Shiv ki mahima aprampar! Shiv karte sabka udhar, Unki kripa ham sab par sada bani rahe, Aur bhole shankar hamare jivan me khushi hi khushi bhar de. Shravan ki shubhkamnaye
GIF Image Reads: Sawan men mile ye saat, Shiv ka ashirvaad, Shiv ki bhakti, Shiv sa sahas, Shiv ka tyag, Shiv ka Saath, Shiv sa tapobal, Shiv sa Shaan, Jai Shiv Shambhu! Shravan ki shubhkamnaye
In epic Vedas and Puranas, the holy month of Shravan is dedicated worshipping Lord Shiva for success, marriage and prosperity. Individuals, majorly from Hindu community, during this month, observe fasting especially on Mondays which are known as Shravan Somvar Vrat. Sawan 2018 is considered to be extremely special, and devotees offer special prayers to Lord Shiva. Some even fasts on Tuesdays which is traditionally known as Mangala Gauri Vrat.