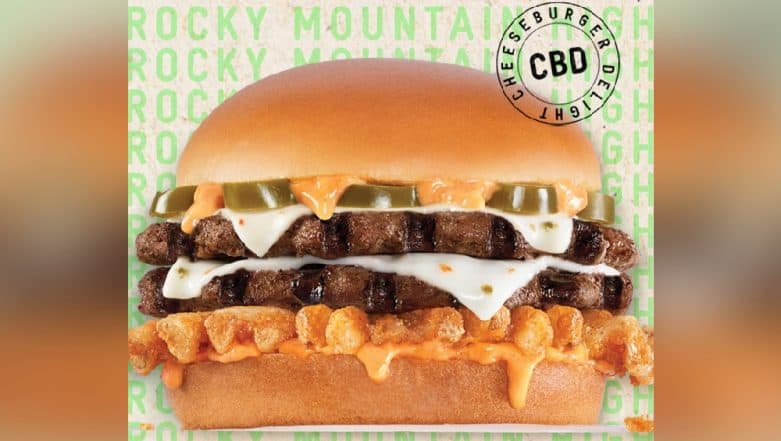 Every year, on April 20 or 4/20—marijuana advocates around the world gather to celebrate in a variety of ways, the cannabis plant. Not just smokers, even non-smokers recognise this day for cannabis culture. Pot lovers in the United States have woke up to a piece of unexpected news, ahead of 4/20 and the excitement is already high. While brands are unveiling weed inspired-campaigns with the approaching of Weed Day, the nation's fast-food joint Carl's Jr. announces to introduce CBD-infused cheeseburger to its menu. Yes, as per reports, the limited-food item, called the Rocky Mountain High: CheeseBurger Delight, will include two beef patties, pickled jalapenos, pepper jack cheese and Carl's Jr. Signature Santa Fe sauce infused with hemp-based cannabidiol (CBD). List of Countries That Legalised Marijuana in 2018. 
In a press release, Carl's Jr. said that the CheeseBurger Delight would be available only on April 20 at one restaurant, which is located in Colorado. The price tag for this CBD-infused burger is 4.20 USD (about Rs 291), and the sales will begin at 6:00 am when the restaurant opens. With the recent launch, the fast-food chain has become the first in the nation to introduce CBD-infused in its menu. Cannabis-Infused Chocolate Brownies Served at Canadian Seniors' Community Luncheon. 
Carl's Jr. CBD-Infused Rocky Mountain High Cheese Burger Delight 
Carl's Jr. CBD-Infused Burger Won't Get You High
CBD is a compound found in cannabis plants. As per CNBC, the restaurant is using hemp-derived CBD, which means only 5 milligrams of the cannabis-derived oil will be mixed into a particular version of Carl's Jr.'s Santa Fe Sauce that tops the burger, which is not enough to get you high. Hemp-derived CBD products are widely available, but the industry is mostly unregulated in the United States. Selling hemp-derived CBD in several states of USA is legal.
It is a time to celebrate smoking cannabis, as well as fight for legislative change to legalise its use across the nation. For those who may be interested in satisfying their munchies on 4/20, the cheeseburger will reportedly be available at the Denver restaurant, located at 4050, Colorado Blvd. Even the non-smokers can treat their taste buds with Carl's Jr. CBD-infused Cheeseburger Delight.