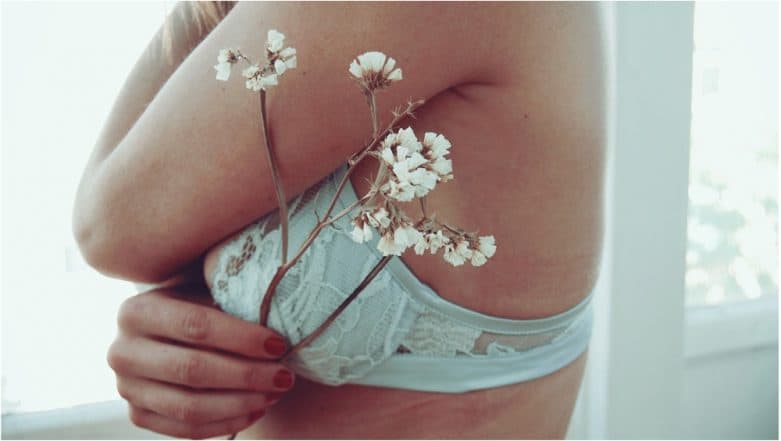 Does the breast size really matter that much? Boobs come in all shapes and sizes just like people and no two boobies look alike. The cup sizes range from small and perky double AA's to big and beautiful size K's and above. And although every woman should be proud of their bra size, a survey revealed that women wearing a certain size bra are happier than others. Read on to find out which women are the happiest with this bra size.
The national UK survey conducted by Cosmetic Surgery Solicitors revealed the happiest size is a C-cup. If you wear a C-cup sized bra you're more likely to feel satisfied with your boobs when compared to other sizes. The survey came to this conclusion after asking 871 women what they felt about their chest. Around 39% of women with a C-cup said they loved or liked their boobs out of five options including didn't mind, disliked or hated their breasts.
The next happiest size was a D and DD, with 37% of women saying they loved or liked the size, followed by 34% for A and AA. Next in the line was E cup with 29% and B-cup with 27%. Despite the broad range of opinion, regardless of cup size, 38% said they 'didn't mind' their breasts and a further 25% said they overall 'like' their chest. Michael Saul, a partner at Cosmetic Surgery Solicitors said, "It's very encouraging to hear that most women in the UK have a positive attitude towards their breasts and that only 18% of respondents would consider cosmetic surgery."
The study also revealed how bra sizes can influence a woman's personality. The survey included anonymous quotes and one woman revealed, "I had to learn to be aware of how I dress and act because since they're big, I'm automatically considered indecent, hypersexual or unintelligent. I have to make an effort to be taken seriously." While at the other end of the spectrum, one woman confessed, "If they were bigger, I think I'd be more confident. Not to show them off or anything, but I'd feel better about myself."
Interestingly, this shows that those with the biggest and smallest sizes said their chest had a big impact on their life. Ladies, grass is always greener on the other side. It is time for us as women to embrace our bodies the way they are. Don't let your boob size hinder your confidence.