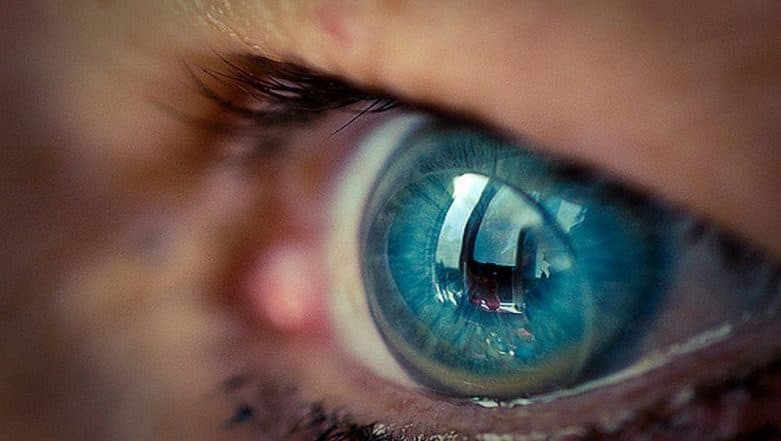 As much as it is convenient to ditch the glasses and opt for contact lenses, it is also important to remember that this convenience does come with its own set of issues. Recent studies have shown that carelessness in terms of eye hygiene as well and the hygiene of the lenses can cost the wearers their eyesight. Yes! Contact lens wearers are more at the risk of Preventable infections like Acanthamoeba keratitis that is caused by the inflammation of the front surface of the eyes. Infections like these can even lead to blindness. Experts believe that poor hygiene habits usually while handling contact lenses can increase the risk of contamination and other risk factors include showering and swimming with the contact lenses on. Depending on the severity of the infection, it can leave patients with about 25 percent of vision loss or complete blindness in some extreme cases. Little Girl With Big Beautiful Eyes Suffers From Axenfeld-Gieger Syndrome. (View Her Gorgeous Pics)
Some other studies also suggest that the cases of corneal ulcers have also increased due to the usage of contact lenses. The study says, 'Corneal ulcers are a major cause of blindness worldwide. A recent eye health care concern is the increasing incidence of contact lens-induced corneal ulcers. Delay in the diagnosis and management of corneal ulcers can cause severe visual loss, therefore an early ophthalmologist visit and timely administration of antimicrobial agents can prevent visual loss. Factors associated with increased risk of contact lens-related corneal ulcers include overnight wear, long duration of continuous wear, lower socioeconomic status, smoking, dry eye and poor hygiene.' Did You Know Just 1 Per Cent Indians Donating Their Eyes Can Give Vision to All Blind People in the Country?
The study further says, 'A number of patients wear contact lens for therapeutic or prosthetic purposes. These patients are at higher risk of infectious keratitis but are usually under the care of an ophthalmologist and may have more knowledge about contact lens hygiene and keratitis symptoms, and will receive appropriate care earlier in case they develop keratitis. In contrast, young people interested in cosmetic contact lenses may not be aware of their side effects.'
Therefore people using contact lens for cosmetic reasons are more at risk of corneal ulcer that can even lead to blindness. The study concludes, 'Cosmetic contact lens-related corneal ulcer is a considerable sight-threatening complication among the young generation as the most population at risk. They may place themselves at a greater risk by purchasing it from beauty shops or beauty salons.'
It is very important to handle your contact lens well. First of all, you have to be thoroughly aware of the kind of contact lens you are using. Different types of lenses have different types of care required. For example, the Disposable extended-wear soft lenses need a lesser amount of care than compared to the conventional soft lenses.
However, here are a few contact lens hygiene tips that can help you protect your eyes.
1. Before handling your contacts make sure you have no traces of perfume, creams and oil on your hands. Therefore, rinse your hands well with a mild soap.
2. Make sure your hands are completely dry and clean, before you touch your contacts. Use a lint-free towel.
3. Keep your fingernails short and smooth to not damage your lenses and prevent from carrying dirt and germs in it.
4. Thumb rule for makeup lovers or who use makeup on daily basis, especially eye makeup- Apply makeup after you put in your lenses and take your lenses off before you remove your makeup.
5. Always stick to a disinfecting solution, doctor's recommended eye drops, or enzymatic cleaners, do not try out any other solution apart from what your doctor suggests.
6. Refrain from using tap water directly on your lenses, not even distilled water.
7. Clean your lens case from time-to-time, use either sterile solution or hot tap water. Clean it every time you use it and Let it air dry.
8. Replace your lens case in every 2-3 months.
DO NOT swim, take bath or nap with your contact lenses on. You must visit and eye specialist for regular check-ups to check for infections or germ build-up.
(Reference: Contact Lens Induced Corneal Ulcers; a Series of a Considerable Risk Factor)