The incident of British Airways offloading an Indian family because of the crying child has shocked everyone. The prevalent racial discrimination evoked fear in one of the passengers who has to board a flight tonight. He tweeted out the airlines about his concern and the airlines assured him, there would be no racial discrimination towards any of the passengers.
A passenger named Vikram Ravindran has a flight to board from Basel to London tonight and he expressed a concern about his safety, given he is Indian. And one of the executives from the airline was quick to address. The airline has been facing a lot of flak since the offloading incident was reported. They also said they are are looking into the matter. But the shocking letter written by the Indian family mentioned one of the male crew members saying to the crying child, "you bloody keep quiet otherwise you will be thrown out of the window." Such language is really shocking and while offloading their family, they also asked another Indian family, who was trying to calm down the child to offload. The entire incident has been quite shocking and people on social media asked others to boycott the airlines.
Take a look at passenger's query and British Airways' reply: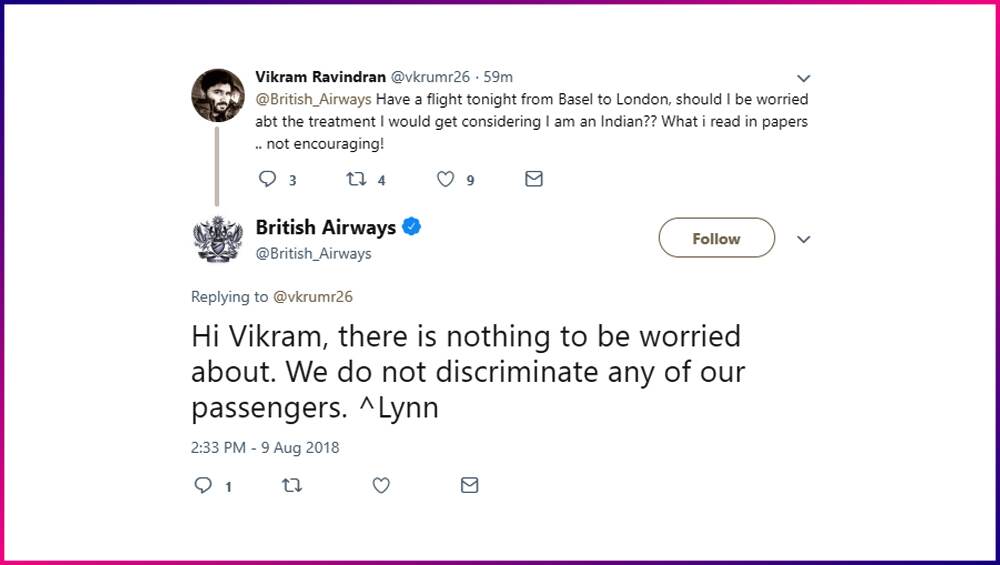 Although they have reassured the passenger, a worry will strike further Indian passengers. It is shocking to learn that a reputed airline is carrying out such blatant racial discrimination. The incident is being looked into and we hope those at fault are given a strict punishment.