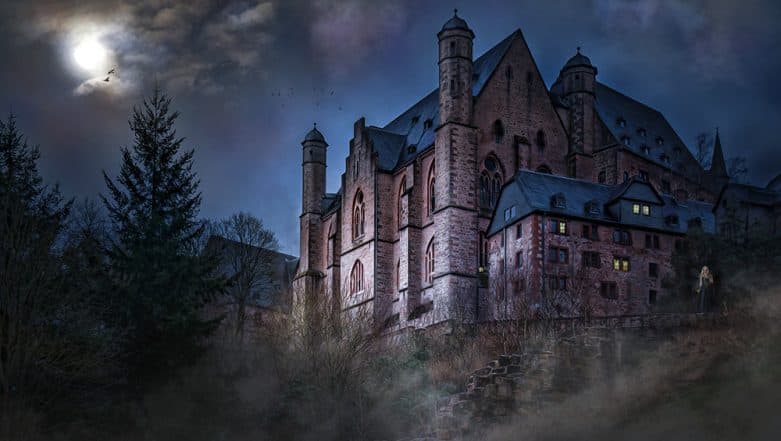 Do you love listening or reading horror stories? If you love ghost and ghost tales then how about experiencing a spooky travel trip? If you love heading into relatively secluded locations, listening to haunted stories and hope to experience some thrills then we have some locations within the country which can cater to your thrills. These are places which invite the curious into the abandoned spots, who dare to stay beyond the time and love exploring the haunting side of it. If you are planning a trip or at least want to have an offbeat experience, then we give you some haunted destinations in India.
7 Haunted Destinations to Visit in India
Bhangarh Fort, Rajasthan:

This is perhaps the scariest place to visit in India. Bhangarh is known as the Ghost Town of India and it is not allowed to wait here after sunset. The haunted tale behind this goes a magician wanted to marry the local princess. But the princess who was an occult practitioner found a way to kill him.  But before his death, he cast a dangerous spell on the palace which called for its doom. The Archaeological Society of India has put up warning signs for tourists to not stay here after sunset.

Dumas Black Sand Beach, Surat:

This black-sand beach in Gujarat was once a Hindu cremation ground, which gives it a spooky background. People who visited here have reported spooky sounds and shrieks. Others say that winds here carry the whispers of the dead. It is advised not to go roaming on the beach alone, especially as it gets dark.

Jatinga, Assam:This small village in Assam has an unexplained phenomenon of bird suicides. The migratory birds that visit here barely return. It is reported that birds die on moonless nights of September and October. There hasn't been any reasoning behind it and the phenomenon is indeed intriguing.

Ramoji Film City, Hyderabad:

The very huge and intricate structure of Ramoji Film City is built on a space which once used to be a war grounds of the Nizam sultans. There are stories of the light men being pushed by someone and faced injuries. Strange activities are reported from some rooms, with marks on mirrors and the structures being damaged. While it is a very popular tourist spot and sees hundreds of visitors, you may try your luck if you experience anything spooky at all.

Delhi Cantonment, Delhi:

The Delhi Cantonment area is a very pleasant place to visit during the day. But as it gets dark, it is said that locals have had some spooky experiences. Locals claim of seeing a woman in white saree asking for a lift from the people passing by here. Want to take a chance?

Kuldhara, Rajasthan: This is another village in Rajasthan which is said to be haunted. It is said that residents here vanished overnight and since the 1800's the village has been deserted. The horror tale of the place mentions that the village was once inhabited by wealthy people. A minister here fell in love with the villager's daughter. He threatened the people that he would burden them with high taxes if they did not let him marry her. The villagers deserted the place and cursed it. The curse is still said to go on.

Fernhill Hotel, Ooty:This hotel is now shut after constant reports of horror activity, but you can still go around and experience the thrills. This is the location where the Bollywood film Raaz was shot. The film crew members also reported their thrilling experiences. It was reported that the film crew heard rearranging of furniture and some noises above their room, which could not let them sleep. When they called in the reception, it did not connect. On complaining the next morning, they learnt that there was no floor above! Since then the hotel has been shut down.
These are some of the places which you can head to, to have a chilling and thrilling experience. There are several other places, especially in the desert state of Rajasthan, which has more haunting tales to its history. So if you are planning a spookier exploration, these are some of the haunted spots in the country, which you can visit.