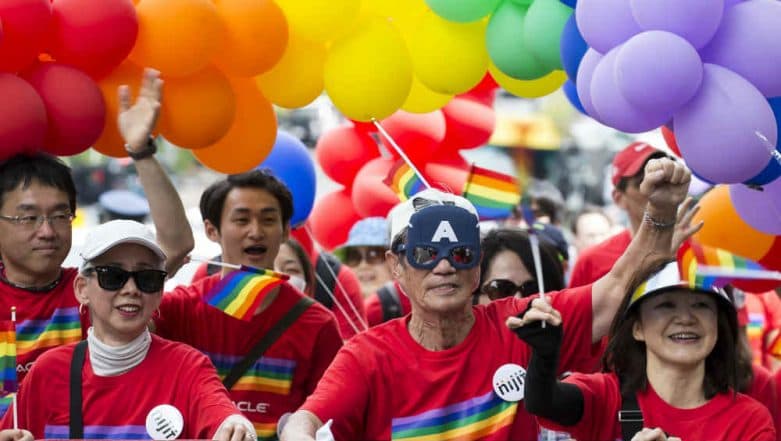 Thousands of people from the LGBT (Lesbian, Gay, Bisexual and Transgender) supporters in Tokyo took part in the annual Rainbow Pride parade 2018 on Sunday. Japan which is of the most liberal countries in Asia witnessed the event from April 28 ended on May 6. While Japan's laws don't support the LGBT community, thousands holding placards, posters and the rainbow flag marched the streets observing the annual parade. The theme for the 2018 event was "Love & Equality".
Wearing colourful hair, painting themselves in different shades, holding balloons the attendees walked through the Shibuya and Harajuku areas of downtown Tokyo.
According to a 2015 poll carried out in Japan, the majority of people supported in changing the country's laws to allow same-sex marriage.  According to the research conducted by the National Institute of Population and Social Security Research, fifty-one percent of people polled backed marriage equality.
Most support for LGBT was found among the younger age groups. Around 70 percent of people between 20 and 40 years of age supported gay marriages. According to a Japan Times report, Tokyo Rainbow Pride 2018 was sponsored by 190 companies and organizations which was a new record. Some of the big names included NTT Corp., Sony Corp. and Google Inc., BuzzFeed and music streamer Spotify.
The event's official website saw support received congratulatory messages from local government leaders like Shibuya Ward Mayor Ken Hasebe and Sapporo Mayor Katsuhiro Akimoto. In 2015, the ward's assembly passed an ordinance and agreed to issue legally nonbinding certificates that declared same-sex partnerships "equivalent to marriage."
On April 1, 2017, gay couples in Shibuya had been issued the certificates which let them treated like married couples in terms of hospital visits and apartment rentals. Cities like Sapporo, Naha in Okinawa Prefecture and Iga in Mie Prefecture have also established similar programs.