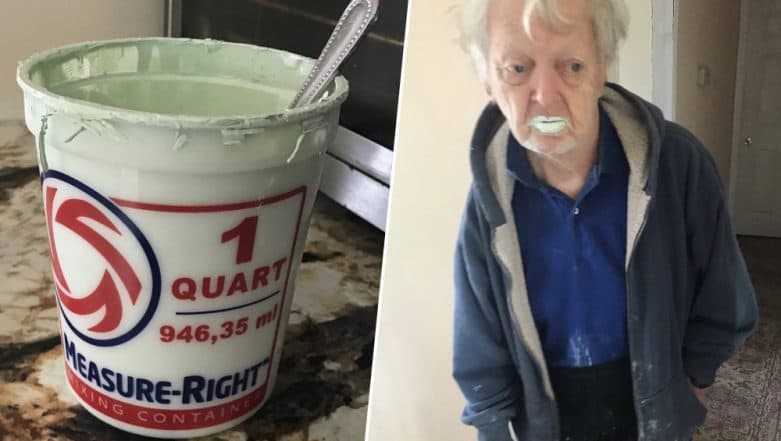 A grandpa is going viral on the internet because of his stint at eating his favourite yoghurt, but only it wasn't yoghurt. What does that mean? Well, a 90-year-old man named Bobby is fortunately not affected and is totally fine after his unappetising stunt. After his granddaughter shared a picture of him online, Twitterati was in love with him for his sheer love for the dessert. Cat Grandpa Goes Viral! Internet Is in Love With Safe Haven's Elderly Volunteer Napping With Felines; View Adorable Pics.
His granddaughter Alex Stein shared a picture on Twitter of her granddad who had his lips covered in mint coloured paint. Her grandpa loves yoghurt and literally lives for it! But his craze or rather a craving for it went too far when he emptied half a can of paint. But thankfully, he did not feel sick or his stomach too wasn't unwell after eating the paint. The picture went viral and some people were even guessing the flavour of the yoghurt he could have thought it to be. Yoghurt is the Best Food for Summers, Know the Benefits of This Dairy Product.
Check Picture of Granpa Who Had Half a Can of Paint Assuming Its Yoghurt
Sooo my grandpa ate half a quart of paint today thinking it was yogurt pic.twitter.com/wzDfDpQgWB

— Alex Stein (@alexsteinnn) February 22, 2019
The tweet has got close to 50,000 likes and 17 lakh plus retweets within 2 days. Check how some of the people reacted to it.
He's Not Done Yet
Gramps looks like he's still wanting to finish the rest pic.twitter.com/N0hQkNu4rE

— Andrew Andoyo (@NEONinja11) February 23, 2019
The Paint Was For the House?
"Whatcha mean that was for the house?"

— Shawnoo66🧜🏾‍♂️ (@Shawnoo8) February 23, 2019
The Elder Innocence
The man is so cute. He looks so innocent

— 💸Y.N.G.D.L.L.R💸 (@ItsHakimAgain) February 23, 2019
Where was the Paint?
Wait does he keep paint in the fridge or did he think he found a secret stash of yogurt in the garage?

— Wickety Wack (@Johnwickk) February 23, 2019
The granddaughter also updated everyone later about his health.
— Alex Stein (@alexsteinnn) February 23, 2019
He is adorable, isn't he? But it is also scary at the same time to eat or rather gorge on paint. Luckily, the 90-year-old has a stomach of iron which did not affect his health.