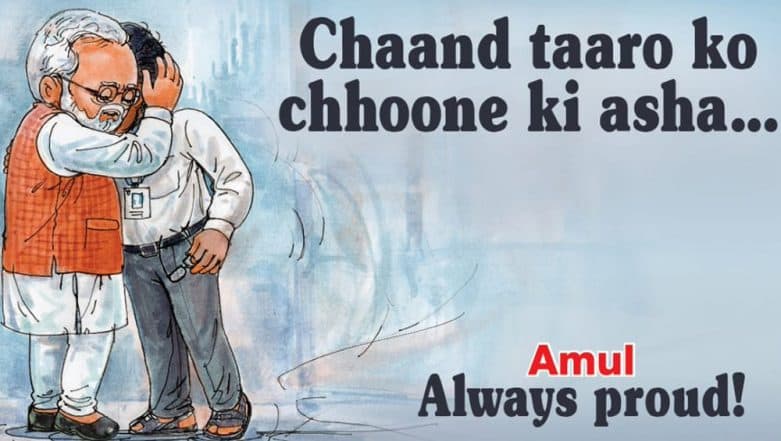 If there is one thing that has gripped everyone's attention in the nation it is the Chandrayaan 2's landing on the lunar surface. The Indian Space Research Organisation is making every bit of an effort to make contact with the Vikram Lander. Indian dairy brand Amul too is hopeful of the communication and have made a beautiful topical ad on India's moon landing mission. There are constant updates about the location, the first of images of the Vikram lander, but the communication is yet to be established. And together a nation sits and hopes to have that soon. Amul Topical beautifully depicted the dreams of the mission accomplishment by using the Bollywood song Dil Hai Chotasa, Chotisi Asha. 
ISRO chief K Sivan broke down in front of PM Narendra Modi after the communication with Moon Lander Vikram was lost on September 6. Just 2.1 km from the lunar surface and the space agency is working hard to re-establish the contact. The efforts to reconnect will go on for the next 14 days which gives more hopes to everyone. Amul has used the same the hugging moment between Sivan and PM Modi along with a line, "Chaand taaro ko choone ki asha..." from the popular song of Roja. 
Check Amul's Topical on Vikram Lander:
#Amul Topical: The dream lives on... the mission will be accomplished soon! pic.twitter.com/T3LSBjeena

— Amul.coop (@Amul_Coop) September 9, 2019
The topical is already a hit among the people with over 2,500 likes in just a few hours. Some people mentioned that they were proud of Amul along with ISRO and their constant efforts to make India reach the moon. Check some of the reactions from netizens. Amul Celebrates Chandrayaan 2 Launch With a Lovely Topical Ad, View Pic.
Hats Off!
Too Good

Hats off 🙏🇮🇳👏💕💖

— Nandini Idnani (@nandini_idnani) September 9, 2019
Love to The Moon and Back!
Amul !!!! Love you to moon n back... what an apt creative...

— ✨Revati✨ (@rrevthi) September 9, 2019
Capturing Mood of the Nation
Super job as always. #Mood of the nation.

— @Ary (@___singh) September 9, 2019
It is indeed a cute ad by Amul which sums up the emotion of the entire nation right now. Amul Topical ads always connect with the audience and just their taglines are enough to make the striking cord. By using the simple line from a Bollywood song, they showed the dream that is harboured by each one in the country today.