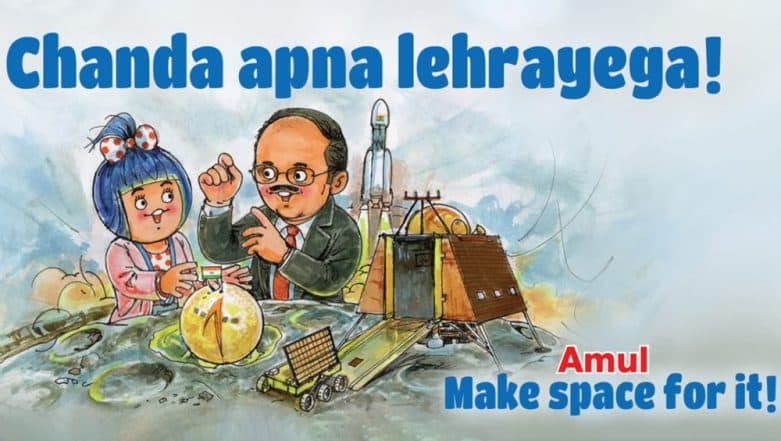 India Space Research Organisation (ISRO) successfully launched India's second mission to the moon Chandrayaan 2 on July 22. And it is indeed a proud moment for all citizens of the country. As soon as the moon mission took off yesterday afternoon, social media has been pouring with congratulatory messages. Among them is Indian dairy brand Amul who has come up with a topical ad congratulating on the Chandrayaan 2. Chandrayaan 2 Launch: Here's What Ola Cabs, ICICI Bank, Google India, Spice Jet Have to Say On ISRO's Milestone Mission to Moon.
Amul has been known to make topical ads on the current trends and add in their 'utterly butterly delicious' product in somewhere. For Chandrayaan 2, they have the Amul girl mascot along with a scientist gesturing the unfurling of Indian tricolour on the lunar surface. The quote says, "Chanda apna lehrayega". They also write Make space for it under the Amul logo. It is once again an innovative way of getting the message across along with conveying pride about the lunar mission. Chandrayaan 2 Explained! When Will ISRO's GSLV-Mk III Reach Moon And What Will Happen After That?
Check Amul's Topical Ad for Chandrayaan 2:
#Amul Topical: #ISRO successfully launches #Chandrayaan2! pic.twitter.com/Qsm6YNhOhu

— Amul.coop (@Amul_Coop) July 23, 2019
Chandrayaan 2: Where Is The Spacecraft Now & When It Will Reach The Moon; Know ISRO Mission's Path
After the Chandrayaan 2 launched everyone including politicians, celebrities and common people shared images, videos of the lunar mission launch and expressed their happiness at the success. The much ambitious project costs Rs 978 crore. It will land on the moon's southern pole on September 7, 2019. The mission was initially scheduled for July 15 but had to be aborted because of a technical snag.