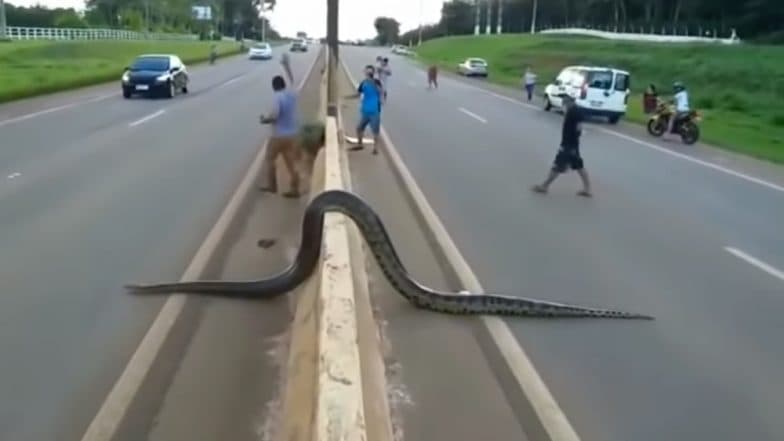 Motorists in Brazil had to make an unexpected stop on the road in the city of Porto Velho for a giant anaconda who was crossing the road. A video has been shared online of the large snake crossing over the divider and getting to the other side of the road. The 10-foot boa was making its way to the other side as drivers had to make way for it to pass. The onlookers captured the strange and scary sight and one of the videos which was posted online is quickly going viral. Snake Filmed While Eating a Pigeon on Streets in London, Watch Video.
In the video, one can clearly see the snake approached from one side, crossed over the divider and went towards the other side of the highway. The onlookers were stunned and ran to capture the sight on their phones. The approaching vehicles on the road had to stop till the long reptile slithered over to the other side.  Venomous Tiger Snake Brings City Traffic to Halt in Melbourne, Watch Rescue Video.
Watch Video of 10-Foot-Long Anaconda Snake Crossing Busy Road in Brazil:
The video which was shared about a week ago has garnered over 2 million views. According to a report in Brazilian outlet G1 Globo, the snake could have come to the highway most likely in search of some food. Biologist Flavio Terassini was quoted, "These snakes can appear in the urban area in search of food, which are small rodents, and in the city they can feed themselves on dogs and even cats." He also mentioned that the snake could be at least 10 years old and weigh about 66 pounds (29 kgs).