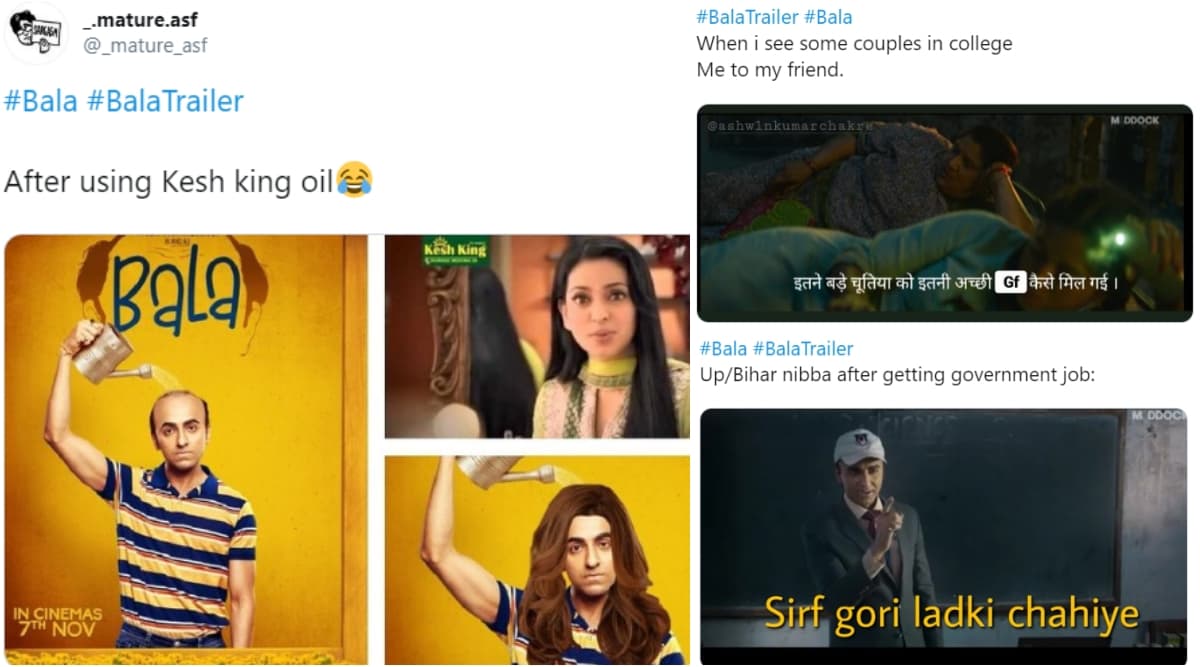 Acting powerhouse and one of the bankable box office stars, Ayushmann Khurrana is back with another 'slice of life' dramedy that fans are bound to enjoy. The movie is Bala, directed by Amar Kaushik of Stree fame. Yes, talented actor meets gifted director, and fans are expecting nothing less than a bonanza. One can sense the hype around Ayushmann's Bala from the overwhelming response received upon the trailer release. The makers dropped the movie trailer on Thursday, and it has instantly struck a chord with fans. Especially with those who live and breathe memes. Netizens are using fun dialogues and scenes from the trailer and converting them into fun memes. In this article, we have compiled a few Bala movie funny memes that will definitely make you LOL!
The trailer opens with Ayushmann Khurrana as Bala talking to a class full of dark-skinned women about matrimonial ads in leading newspapers of the country. He emphasises how being "fair-skinned" is considered "beautiful" and that everyone wants to marry a "fair maiden." One of the women from the group, played by Bhumi Pednekar, looks visibly enraged. She walks up to him and asks him the reason behind wearing a cap inside the class. A couple of seconds later, Bhumi forcibly removes the cap to reveal Bala's receding hairline.
Yes, our hero, Bala, is bald and is definitely not happy it. Especially, when according to him, he used to 'hero' during his school days. A little over two minutes, the trailer shows Bala trying his best to 'comb'at hair loss and marry the dream girl of his life. While you'll have to wait till November 7 to know his fate, you only need a few seconds to enjoy these hilarious memes on the trailer.
EVERY INDIAN FATHER EVER
My father describing his school life.....😒😒😒

Hit like if u listen this from your father pic.twitter.com/ZoW0JfdFgr

— Bollywood Bantai 😛 (@BantaiBollywood) October 10, 2019
Aise Kaise BC
When you enter theatre after movie starts pic.twitter.com/92iL1o1a29

— कौशल (@_kaushalKishor) October 10, 2019
Depression, You Biaachh
#BalaTrailer #bala #AyushmannKhurrana

Me: Abhi life ki saaari depression khatam.. I'm so happy... 🤩

Depression: pic.twitter.com/H3HIJk0PYC

— ChavMeme ❤️ (@chavmemes) October 10, 2019
HAHAHHAHAHAHHAHA
Up/Bihar nibba after getting government job: pic.twitter.com/v34RkPD5zc

— Achhaya Pathak (@frozen_parantha) October 10, 2019
Ummmm, May Be
Every school teacher describing his story pic.twitter.com/0ZLiGsgTDH

— Achhaya Pathak (@frozen_parantha) October 10, 2019
Problems, You Bitchiya
Problems in my life: pic.twitter.com/CS7YnnGtFJ

— Achhaya Pathak (@frozen_parantha) October 10, 2019
HAHAHAHHAHAHAHA
Draupadi's saare in Mahabharata: pic.twitter.com/BCNIV1o1zF

— Achhaya Pathak (@frozen_parantha) October 10, 2019
Dr Batra 'Ji', Dekh Rahe Ho
Dr Batra is the most worried person currently, with everyone in Bollywood being OK with baldness.

😹😹😹#Bala #Housefull4Trailer #UjdaChaman pic.twitter.com/7doC6sWrvl

— Shri Ram Maheshwari (@maheshwarisr) October 10, 2019
Kesh Kaya, Sabkuch Hai Maya
After using Kesh king oil😂 pic.twitter.com/OOkQLzBaQN

— _.mature.asf (@_mature_asf) October 10, 2019
Me to My Friend
When i see some couples in college

Me to my friend. pic.twitter.com/SGuresI5oJ

— ᴀ s ʜ ᴡ ɪ ɴ 🇮🇳 (@ashw1nkchakre) October 10, 2019
Watch Official Trailer of Bala Movie:
We are sure there will be many more amazing Bala memes you would have also come across. You can tag LatestLY and tell us about your funniest dialogue or comical scene from the movie. Bala is one of the most anticipated movies of the year, and it not only brings the on-screen hit pair of Ayushmann and Bhumi, but also has 'Fair and Lovely' girl and supremely talented actress, Yami Gautam. And then there's the fantastic supporting cast in the form of Javed Jaffrey, Saurabh Shukla, Seema Pahwa and Abhishek Banerjee. Cannot wait for November 7!