Online shopping platform Amazon is facing the wrath of Indian customers after images of products bearing religious prints were found to be selling on Amazon.com. The e-commerce website is selling doormats, yoga mats, and toilet seat covers bearing pictures of Hindu Gods like Lord Shiva, Lord Ganesha and Lord Buddha. This is not the first time the online retail site has committed a major mistake and offended the Indians. Thus #BoycottAmazon has become a trend on Twitter and users are putting up screenshots, images and links of other such offending products that are being sold online. People are also deleting their application from their phones altogether. Indian Map Shown Incorrect By Amazon! Techie Urges to Boycott the Company for Representing J&K Inaccurately During AWS Global Summit.
Back in December 2018, Amazon was slammed for selling doormats, rugs and toilet accessories which had the imagery of the revered Golden Temple. The disrespectful products hurt the sentiments of the Sikh communities worldwide and Amazon received a lot of backlashes. The products were immediately taken off their site. But once again, such offending imagery of religious things are seen selling on Amazon.
Here Are Some of The Products That Are Currently Selling on Amazon: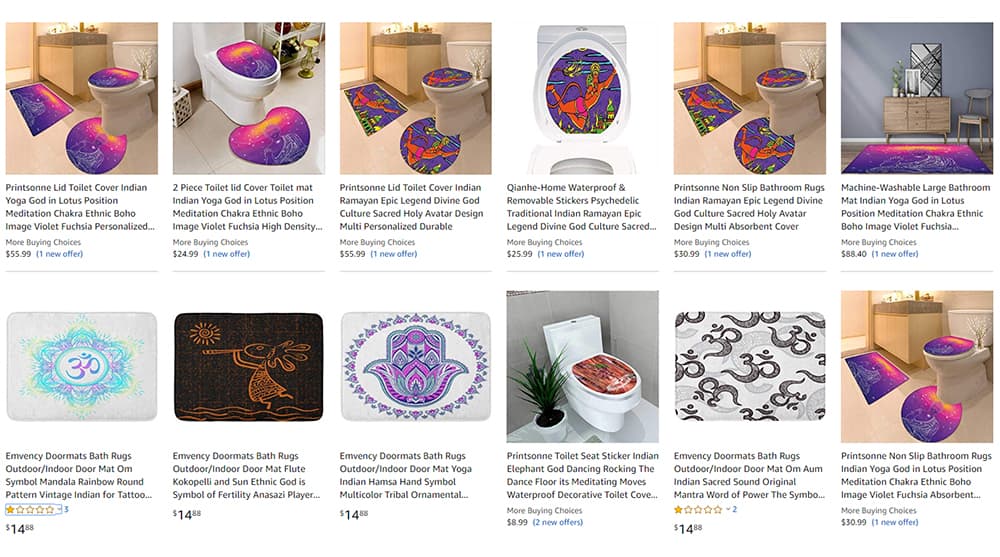 Here Are Some Tweets Calling For Boycotting Amazon:
What the hell is this Amazon? (@AmazonHelp, @amazon)

How many times you will hurt the sentiments of Hindus? Why do you do this every year, every time? Till when will this continue? Will it ever stop? pic.twitter.com/XuwlHHu4qY

— Anshul Saxena (@AskAnshul) May 16, 2019
Soon as this tweet went viral, other users also uploaded pictures of similar products which bear such images. Take a look at the tweets.
Can't you just keep a check on such products?? Shame on amazon😡😡#BoycottAmazon pic.twitter.com/1tAe8jvKEC

— Rohit Patil (@widerohit) May 16, 2019
@amazonIN @AmazonHelp @amazon You guys are disrespecting our gods. Is this a joke to you guys. Don't you guys ever check product before selling it. #BoycottAmazon pic.twitter.com/UORRXgKBew

— Naman Krishna🇮🇳 (@krishnanaman) May 16, 2019
Amazon can't do the business in India after hurt the sentiment of Hindus........ #BoycottAmazon pic.twitter.com/MQDg2Rl8yv

— Shiv Kumar (@kumarshivsaini) May 16, 2019
Soon everyone started sharing pictures of them uninstalling the application. People are pledging they will never buy any products from the site. As some people have also pointed out how their creative freedom can also drive people over their religious tolerance. People are asking the site to apologise and take down the products at soonest. It remains to be seen if the store takes any action to the appearance of such products on their website time and again.