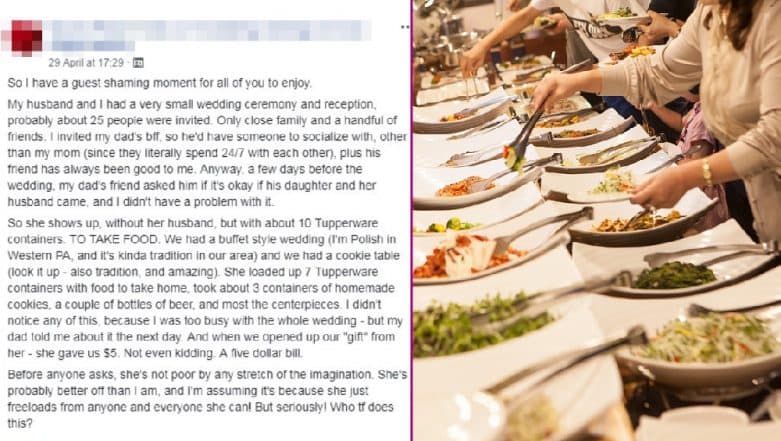 We all know that free food is one of the best things about weddings. However, it is also important to understand how the most basic and unspoken wedding etiquettes work. This recent incident that occurred with a Polish bride is an example of how not to behave at weddings. This bride was horrified to know that one of the guests she had invited stole about 10 Tupperware containers of food from her wedding buffet and as if that wasn't enough, she went ahead to give her $5(about 347 Indian Rupee) note as her wedding present. Bride Slammed for Her 'Period-Stain' Tampon Bridal Dress That Is Going Viral Online!
The bride took on to Facebook to share her ordeal with everyone. She explained how she only invited 25 of her closest friends and family to the wedding reception and amongst them was two of his fathers BFF "so he'd have someone to socialise with", and one of these two brought along his daughter. She further vented out saying: "So she shows up... with about 10 Tupperware containers. TO TAKE FOOD. We had a buffet style wedding and we had a cookie table. "She loaded up 7 Tupperware containers with food to take home, took about 3 containers of homemade cookies, a couple of bottles of beer, and most the centrepieces. I didn't notice any of this, because I was too busy with the whole wedding - but my dad told me about it the next day."
What was even worse is that she chose to give a $5 bill even after coming from a well-to-do family. The bride further wrote: "And when we opened up our 'gift' from her - she gave us $5. Not even kidding. A five dollar bill. Before anyone asks, she's not poor by any stretch of the imagination. She's probably better off than I am, and I'm assuming it's because she just freeloads from anyone and everyone she can! But seriously! Who tf does this?"