Dip-dyed clothing is quite popular and people usually opt for tees made with the dip-dyed process. However, bridalwear made via the dip-dye process is quite a rare sight. This unnamed bride opted for a dip-dye bridal dress. The white bridal gown was dipped in red dye from the lower edge, also criticised online as period-stain' dip-dyed wedding dress. Yes! The dress was criticised online, in a wedding group wherein people claimed that the dress looked like a stained tampon. A woman has shared a wedding dress online that she felt looked like a tampon and the hilarious post described the ombre gown with a dark red stain on the base as a period-stain bridal gown.
In no time the pictures of the crazy bridal dress went viral after a woman posted its photos on Facebook with a caption: "Am I the only one that thinks tampon?" Somebody else commented: "Maybe she knows she's going to be on her period during the wedding and didn't want to take any chances ruining the dress." "I didn't see it until I read the caption and now it's all I can see," somebody else added. Another commenter suggested: "Maybe different lighting and a different angle would help it to look better." Another commenter was very clear about his opinion, and he said: "Some dip dye dresses look good. This is NOT one of those."
Take a look at the picture of the period stain tampon bridal dress: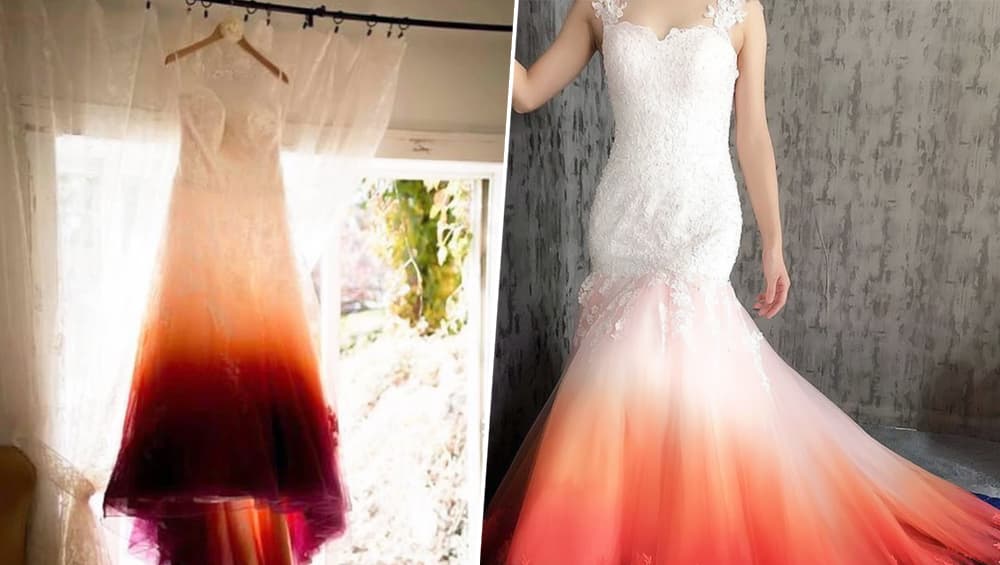 Recently, Marks and Spencer 'period-stain' bikini had gone viral online. The bikini looked like feature a lovely leaf scene was said to be ruined by an ombre fade on the bottoms which looked like a period stain.