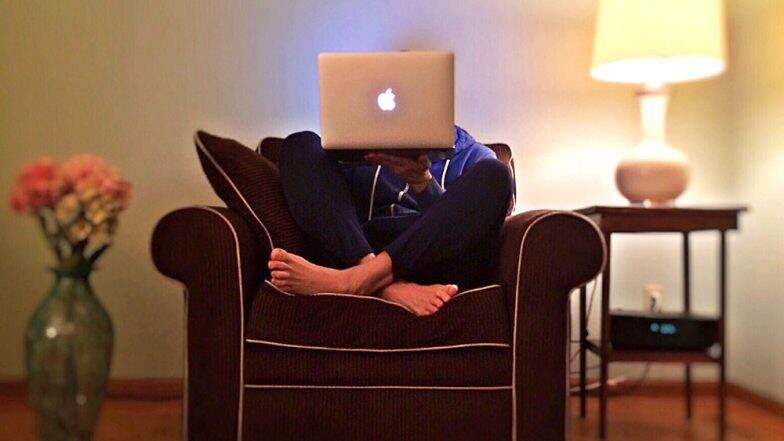 Early exposure to the internet for kids is not too healthy. While the internet may serve a plethora of knowledge to them at a click, it is not possible to always regulate what they are searching online. A video has been going viral on the internet which shows a dad checking upon his 8-year-old son's search history on his iPad and finds something shocking. From reading upon celebrities death and popular games, the kid was looking for NSFW term like 'BBQ sauce on titties.' The funny video is going viral on Twitter. Hilarious Video of Dad Pushing His Goalie Son to Save a Goal During Under-8s Football Match Is Surely Not a Perfect Parenting Lesson.
Craig Wilson was Blackpool was too amused when he decided to go through his 8-year-old's search history. Elder sister Ashleigh uploaded a video of the same on Twitter which is now going viral. The initial search topics ranged from games like Fortnite, YouTuber, what caused celebrities' death and also about lucid dreaming. But things took an unexpected turn when the search also showed 'BBQ sauce on titties.' The dad couldn't control his laughter at this point. Mom Catches 6-Year-Old Using Amazon Alexa to Finish His Maths Homework, Funny Video Goes Viral.
Watch Video of Father Checking the Search History on His Son's iPad
So my dad decided to check the history on my 8 year old brothers ipad... watch till the end 😂 pic.twitter.com/K8fdP5EyGm

— Ashleigh Wilson ✨ (@ashleighjwil) February 24, 2019
The father was left laughing so his son was probably saved from getting an earful. But people on the internet commented that the phrase was in reference to a popular vine from series Orange is the New Black and did not mean any vulgar content. Some others also shared their experiences of what they found when they decided to check up on their children. Check how people reacted.
It's From Orange Is The New Black
He can't get in trouble because it was a popular vine

— Djordymans (@djordyblaauw) February 24, 2019
that line is from season 1 of orange is the new black 🙄🙄🙄

— certifed mal Ⓥ (@veganmal) February 24, 2019
What's With Looking up Deaths?
Ironically the 'bbq sauce on titties' is the most normal part...but let's discuss his obsession with how people died. 🤔 pic.twitter.com/a7QNyPPPOd

— B.J. Van Griffin IV (@MrVanGriffin) February 24, 2019
Private Videos
I love this. I opened YouTube one day and my six year old had searched for "privet videos with girls ass"

— Barry Hobbs Jr (@xBarryHobbsJrx) February 24, 2019
XXXtentacion He Meant?
I think my favourite part was when he called xxxtentacion extension 😂

— Josh Jackson (@Josh_J99) February 24, 2019
While it may be a popular vine, we are not sure what the internet must have shown up as a result. This video is funny sure, but parents always need to be careful about what their children are looking up on the internet.