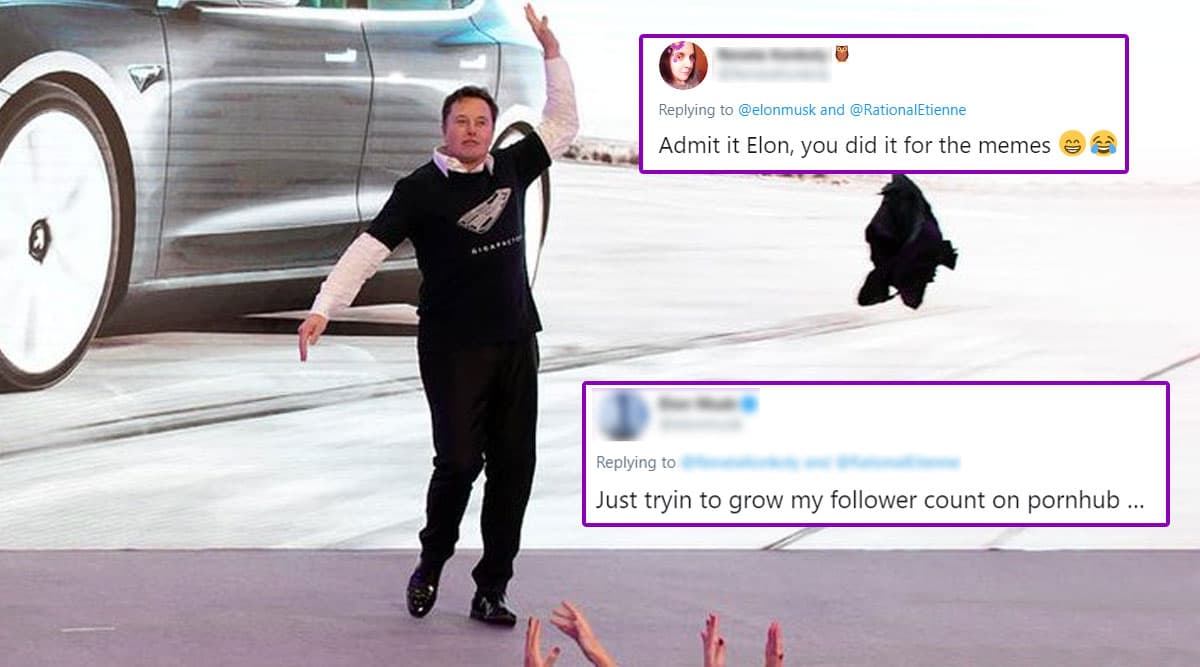 Do you want to see Elon Musk dancing his heart out? We must warn you; it might hit your eyes hard. Musk showed off his dance moves at Tesla's Shanghai during an event to celebrate the launch of its Model Y program and also the delivery of the first Chinese-made Model 3 vehicles to customers. The outlandish SpaceX CEO danced like nobody was watching in front of a huge crowd. And if you thought his moves were awkward, you are in for a treat as Musk took it to Twitter, to share this hilarious glimpse with his followers. Not just that, he even responded that the awkward seductive moves at the event was related to his Pornhub goals. Yes, you read that right. Responding to a tweet, the billionaire joked that the his NSFW artistic expression was in a bid to increase his followers on the XXX website. Tesla Unveils Cybertruck, Elon Musk Faces Embarrassing Moment As Two Windows Break During Demo.
The dancing reportedly began after Musk walked onto the stage. Who on the world could have imagined the billionaire could hit the stage, this way. At one point, he even stripped off his jacket, prancing and strolling around for a few seconds. The main takeaway from his boogie was that Musk was proud enough of his boogie skills. Elon Musk's Top 5 Quirkiest Tweets of 2019. 
He even put a short clip on Twitter, writing, "At Tesla Giga Shanghai NSFW!" pun-intended. Clearly, it was not safe for any of us to watch at work. The lack of nudity did not stop the audience from audibly cheering Tesla's owner.
Watch the Video: 
At Tesla Giga Shanghai NSFW!! pic.twitter.com/1yrPyzJQGZ

— Elon Musk (@elonmusk) January 7, 2020
Of many, one of the commentator responded, "Admit it Elon, you did it for the memes." But no he didn't! The entrepreneur joked, "Just tryin to grow my follower count on pornhub."
Here's the Tweet:
Just tryin to grow my follower count on pornhub …

— Elon Musk (@elonmusk) January 7, 2020
Jokes aside, Musk announced that Tesla would also make the Model Y, its lower-priced SUV, at its new Shanghai factory, as per reports. He also plans to open a design centre in the country. That seems like a dance-worthy achievement!